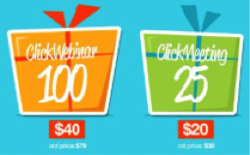 "Starter-level pricing for larger packages lets new Customers get even more for their money."
—Simon Grabowski, CEO
Wilmington, Del. (PRWEB) December 10, 2012
ClickMeeting, leading provider of videoconferencing SaaS, today announced a Christmas promo running now through December 31, 2012. New Customers who sign up during the promotion get access to special packages, priced for the Holiday Season.
ABOUT THE PROMO
Special promo starter packages are available in both ClickMeeting and ClickWebinar.
The http://www.clickmeeting.com promo package accommodates 25 attendees.
The http://www.clickwebinar.com promo package accommodates 100 attendees.
"Starter-level pricing for larger packages lets new Customers get even more for their money," said ClickMeeting Founder and CEO Simon Grabowski, "and they deliver their message to larger groups, with all the advantages of face-to-face online presentations."
"SOCIALIZE" YOUR ONLINE MEETINGS
The holidays are a great time for building relationships with customers, prospects . . . and fans. Our ClickMeeting free App for Facebook brings the immediacy of face-to-face meetings to your online relationships.
"Businesses like to get into the holiday spirit on their Facebook fan page," said Clickmeeting
funder and CEO Simon Grabowski. "This year, why not have your Christmas party "live" online — on Facebook?"
. . . and not just Facebook. Twitter followers and LinkedIn connections can sign-up and sign-in for online meetings and conferences using their social media username and login. No need for time-consuming setup; just organize an impromptu meeting when social activity is at a natural high point. It's quick and easy.
CLICKMEETING/CLICKWEBINAR FEATURES
Either platform can be integrated with Facebook with just a few clicks to enable meetings inside the Facebook platform. And for participants who enjoy the mobile lifestyle, apps are available for smartphones and pads in Apple iOS, Android and Blackberry formats — free of charge.
Both platforms deliver our full array of features and capabilities, including streaming audio and video, easy-to-use presentation tools, desktop sharing and the speed of Cloud computing. Also included are interactive features such as polling, Q&A sessions, and moderated or private chat translated into each participant's choice of 52 languages. And the Meeting Success Analyzer statistics report includes participation summaries and drill-down to individual attendees and their feedback ratings.
Details about the Christmas Promo are available on the company website: http://www.clickwebinar.com/christmas-offer
ABOUT CLICKMEETING
ClickWebinar and ClickMeeting are software-as-a-service (SaaS) products of parent company Implix, a leading provider of practical, cost-effective software solutions for small businesses. With more than 500,000 users, ClickMeeting uses Cloud technology to facilitate face-to-face online collaboration anytime — with participants anywhere in the world. Standard packages accommodate from 2 to 1,000 participants, with custom plans available for audiences larger than 1,000. For more information, please visit http://www.clickmeeting.com/