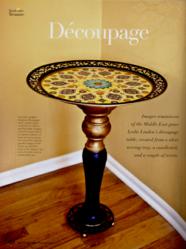 "Looking and feeling beautiful should be a choice, not a privilege."
(PRWEB) December 17, 2012
Leslie Linden, (http://www.LeslieLinden.com) Jewelry Designer and Decoupage Artist, is showcased in a new book titled, "Secondhand Treasures" by K. Simpson. Her featured art piece is credited with "Taking upcycling to a new level". The decoupage tray table she designed was created from a found sterling silver tray, an oversized candlestick turned upside-down, a trivet, a bit of paint, and vibrant oriental imagery.
Leslie's new venture http://www.LeslieLinden.com is a collection of artisan jewelry consisting of pendant necklaces and carefully coordinated necklace, bracelet and earring sets. Her pieces have a very unique signature that combines the beauty of ancient Oriental and Middle Eastern art with the exotic style of the Art Nouveau period. Her use of vibrant colors together with the sparkle of Swarovski crystals, vintage rhinestones, brass filigrees, and bead work, makes her work quite striking.
A career history in interior decorating and graphic design informs her designs with an exhilarating use of color, texture and arrangement. Each limited edition piece takes seven to ten days to complete, and each is a labor of love for the artist. Believing that "looking and feeling beautiful should be a choice, not a privilege," she carefully selects materials for quality, longevity and affordability. These are pieces that transition easily from day to evening and will never go out of style.
Leslie invites people to visit her jewelry shop, http://www.LeslieLinden.com to browse the many styles offered there. Questions and comments are encouraged. She can be contacted at LeslieSlinden(at)gmail(dot)com. Leslie believes that sharing the experience enhances the outcome and creates rewarding, lasting relationships.