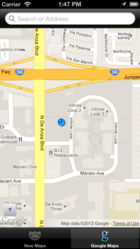 Users can now take the Pepsi Challenge equivalent for mobile maps.
Eugene, OR (PRWEB) December 20, 2012
After going through Apple's review process, MapChoice™ is now available in the App Store. The app allows users to explore places simultaneously using Google Maps and Apple Maps. Users can explore Street View where available, search for venues using FourSquare, and choose to get directions using Apple Maps or Google Maps.
"Users can now take the Pepsi Challenge equivalent for maps," said Mike Sax, developer of MapChoice. "Most comparisons between Google and Apple Maps have focused on either famous places or extreme differences, but what users really want is to compare the places that matter to them. MapChoice makes these personal comparisons not only possible, but also very easy."
Google Street View is instantly available for locations where it is supported. MapChoice also plays well with other apps: the app uses FourSquare to search for venues and allowing users to instantly check reviews, check in, and see photos of a venue. For directions, users have a choice between Apple Maps, Google Maps, and TomTom if the TomTom app is installed on their device.
Pricing and Availability
MapChoice is available today in the Apple AppStore for 99 cents. The app requires iOS6.