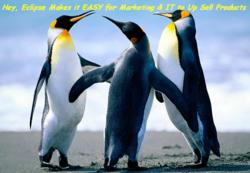 "We are excited about the opportunity to help clients replace aging enterprise document generation software. This virtually eliminates the capital expense a company would need to buy a new solution." said Steve Luke, President, Eclipse Corporation.
CAPE CORAL, FL (PRWEB) December 13, 2012
Eclipse Corporation announces a competitive upgrade program for all major enterprise document generation software solutions. Companies that own Adobe LiveCycle Output or Production Print, Bottomline, Create!Form, DocPath, FormScape, MS Dynamics, Optio, Quadrant, Resolutions, StreamServe or any other competitive enterprise document generation product are eligible for an upgrade.
Many users of antiquated enterprise document generation software programs experience poor performance, limited functionality and have to make costly program modifications to use the product. Many of these were expensive solutions that don't perform basic functions like intelligent pagination, PDF Combine, Dynamic White Space Management or out of the box interface to print, email, fax, web and or archive. The answer is an upgrade to DocOrigin from Eclipse.
DocOrigin is a scalable enterprise document generation software solution that meets the performance and feature requirements for even the most demanding global companies. DocOrigin is used to design mission critical documents and forms, merge data to create dynamic data driven customer communications and deliver information via print, fax, email, mobile, web and archive.
HOW THE CPU LICENSE UPGRADE PROGRAM WORKS
Normally the DocOrigin CPU License has a base price of $30,000. With the upgrade program new customers will receive the appropriate discount listed below and need to meet these few guidelines.
1. Trade in 1 license get $20,000 off, pay just $10,000 for one DocOrigin CPU licenses.
2. Trade in 2 licenses get $45,000 off, pay just $15,000 for two DocOrigin CPU licenses.
3. Trade in 3 licenses get $60,000 off, pay $0.00 for three DocOrigin CPU licenses.
4. Trade in 4 or more licenses, receive first 3 licenses for free and a great deal on all additional licenses.
5. New customers must purchase a minimum one year M&S agreement on the DocOrigin software, see additional terms below*.
6. Limited Time Offer. Companies interested in the upgrade program must request a demo by December 31th 2012 and place order by January 31st, 2012.
PERFORMANCE SPEED GUARANTEE
The DocOrigin CPU based license provided by Eclipse will meet or exceed the speed of the current competitive CPU based license owned or Eclipse will provide additional CPU licenses to meet or exceed the per surface generation speed for PDF generation and/or the per page generation of PCL documents. Ask about the Eclipse upgrade program for document based licenses.
KEY FEATURES

Create interactive and batch documents and forms for all major ERP systems
Platform Support: AIX, IBM i, LINUX, WINDOWS (IBM i, clients receive iFORMagine**)
15,000+ PDF surfaces generated per minute
PDF Combine ( Assemble Document Packets), PDF Extract
Data Input File Formats: ASCII TEXT, CSV, FRL, Spool, XML
Output File Formats: PCL, PS, PDF, HTML, XML
Intelligent Document Reduction® ("IDR"), reduces total pages/surfaces up to 66%
Design and Generate forms in any language, including double-byte / UTF-8
Optional Fill-able HTML Forms module available
Development and support based in North America
CUSTOMER COMMUNICATIONS
DocOrigin provides powerful customer communications, cross sell and up sell features for marketing and advertising. DocOrigin includes Dynamic White Space Management ("DWSM") which optimizes cross promo marketing without wasting valuable presentation space and saves paper when printing cross promo documents. Enterprise Cloud Faxing is included for desktop, interactive, broadcast, and high volume batch faxing.
Clients in the healthcare, banking, manufacturing, distribution, logistics, and government industries among others use DocOrigin software. DocOrigin integrates easily with IBS, INFOR, Lawson, Microsoft, Oracle, QAD, Sage, SAP, and other major software solutions. DocOrigin customers enjoy rapid deployment and major cost savings with features like Intelligent Document Reduction® ("IDR"). IDR reduces the page surfaces required to present information by up to 66%, saving paper, bandwidth and storage space.
Eclipse is actively looking for resellers and OEM's for DocOrigin.
ABOUT ECLIPSE
Eclipse Corporation is a leading provider of document automation, enterprise document generation software and customer communication management solutions. Eclipse products help companies manage information by making documents more accessible and dynamic for customer facing and internal uses. With more than twenty years of experience, Eclipse provides deep knowledge of document automation and document management software. Eclipse solutions are based on products developed by Adobe, Eclipse Corporation and OF Software. DocOrigin and iFORMagine products provide native support for AIX, IBM i, LINUX, UNIX,and WINDOWS servers.
For complete details on DocOrigin 2.0 call Will Luke +1.678.408.1245 or email Will.Luke(at)EclipseCorp(dot)US
ADDITIONAL DETAILS OF THE UPGRADE PROGRAM
1. Annual M&S fee is based on 20% of list price of the DocOrigin licenses provided or the current M&S fee paid for existing document generation licenses, which ever is greater.
** 2. iFORMagine for IBM i is powered by DocOrigin and is installed natively on the IBM i. iFORMagine is an excellent upgrade path for JD Edwards customers using Resolution R-Forms and PDF Wizard users. The original software developers of R-Forms and PDF Wizard for J.D. Edwards are now developing software for Eclipse Corporation.
3. 20% OFF, Eclipse will provide professional services, forms migration, training and installation for 20% off Eclipse standard prices for orders placed before December 31st 2012.
"Intelligent Document Reduction" (IDR) is a registered trademark of Eclipse Corporation WSL Inc.
Eclipse Corporation WSL Inc. dba Eclipse Corporation
Eclipse Corporation is an Oracle Gold Partner
Eclipse Corporation is a member of IBM Partners in Development
Adobe, Live Cycle, Bottomline, Create!Form, DocPath, FormScape, Optio, Quadrant, Resolutions, StreamServe IBS, INFOR, JD Edwards, Oracle, QAD, SAP are Trademarks or Registered Trademarks of their respective owners.