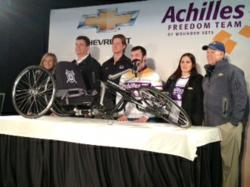 "...I can promise you, we will continue supporting our veterans with the GM military programs and discounts as long as I am the CEO of GM." Dan Akerson, CEO, GM Motors
Philadelphia, PA (PRWEB) December 10, 2012
Prior to the start of the 113th Army Navy game on Saturday, December 8th in Philadelphia, the General Motors Team, members of the Achilles Freedom Team, engineering students from Michigan Tech, press and MilitaryOneClick, gathered at Lincoln Financial Field to introduce a new and more dynamic hand-crank cycle for the Achilles Freedom team. The Achilles Freedom Team of wounded veterans was founded in 2004 by Achilles International as a rehabilitation program that trains and sponsors wounded servicemen to participate in races and marathons across the nation. GM engineers and the Michigan Tech "Huskies for Heroes" students worked together to create two hand-crank cycles made of high-strength steel alloys for durability, improved restraints for comfort and safety, and designs that make the cycles more portable and less prone to damage.
CEO, Dan Akerson, Navy veteran, USNA class of 1970, and proudly wearing his Navy ball cap, announced during the unveiling event, "...GM is so proud to be working with our military and veterans and we are committed to building 10 more hand-crank cycles in 2013." Mr. Ken Barrett, Chief Diversity Officer and retired Navy Captain spoke with Jennifer Pilcher, Founder, MilitaryOneClick and echoed Mr. Akerson's commitment with saying, "It's great to work at GM...we have over 5,000 veterans currently working with GM and we have over 45,000 retirees who also served our nation." Barrett went on to discuss with Pilcher the many military programs GM supports including, "the most lucrative military discount in the industry." The GM Military discount program offers the best discounts on most Chevrolet, Buick, and GMC vehicles for active duty, reserves, veterans (within one year of discharge date) and retirees and spouses of the U.S. Air Force, Army, Navy, Marine Corps, Coast Guard and National Guard. GM is also a proud sponsor of the U.S. Chamber of Commerce Hiring Our Heroes initiatives aimed at finding meaningful employment for veterans and military spouses. Mr. Barrett shared, " GM is a cross functional team supporting our military and their families on all fronts." Chevy is the official vehicle of the Army Navy game and also assists with additional non-profits including Cell Phones for Soldiers and The Fallen and Wounded Soldiers Fund.
Akerson spoke with Pilcher during the event saying, "we are so honored to serve our vets who have served our country." When Pilcher asked Ackerson, "how long will GM continue their military programs and discounts?" Akerson enthusiastically replied, "...I can promise you, we will continue supporting our veterans with the GM military programs and discounts as long as I am the CEO of GM."
MilitaryOneClick is a dynamic global media platform for Military and Community Working as ONE: Opportunities, News and Entertainment