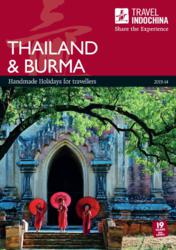 (PRWEB) December 10, 2012
Australia's leading Asian travel specialist Travel Indochina has put together a list of the top ten things to do in one of the world's most dynamic destinations, Burma, to coincide with the release of its '2013-14 Handmade Holidays Thailand and Burma' brochure, which features tailor-made itinerary options for independent travellers.
Burma has much to captivate visitors, from its beautiful temples and pagodas, to idyllic landscapes and British-colonial architecture.
Now that the fascinating country is back on many travellers' radar as it is welcoming and encouraging responsible tourism, the experienced team at Travel Indochina has provided insights into what it considers the country's top ten highlights or 'must do's':
1. Enjoy encounters with Burma's warm, engaging people, who have been largely cut off from the international community for many years.
2. Watch the sunset behind the thousands of intricate stupas dotting the Bagan Plains.
3. Explore the floating villages and gardens of Inle Lake by local riverboat.
4. See monks and nuns collecting alms and learn about their way of life when you visit their monasteries and convents in and around Mandalay, the spiritual centre of Buddhism in Burma.
5. Visit local villages and markets for an insight into the daily lives of the Burmese people.
6. Discover the Irrawaddy River by boat, a tranquil way to get around.
7. Wander the colonial hill stations of Kalaw, high on the pine-clad Shan hills and Pyin U Lwin in northern Shan State.
8. Marvel at the glittering, golden Shwedagon Pagoda, one of the world's most breathtaking religious monuments.
9. Spend a few days relaxing on the pristine white sands of Ngapali Beach amidst turquoise waters and swaying palm trees.
10. Surrounded by untouched jungle, join pilgrims making the hike up Mt. Kyaiktiyo to the extraordinary Golden Rock.
Travel Indochina's Managing Director, Paul Hole, advises travellers wishing to share this unique experience should not delay in making plans.
"Demand to Burma has soared over the last 18 months," according to Paul. "Our bookings for passengers due to travel in the next 12 months to Burma has grown year on year by 532%."
"Although we still have some availability for tours and arrangements for 2013, it is limited, so we encourage people wishing to go to book soon. At a minimum, bookings are required 6 months out at most times during the year."
Travel Indochina offers a range of specialist tours through Burma, including 7 and 14 day Spice Road Cycling itineraries, hilltribe treks, visits to elephant camps and regional cooking classes within Yangon, Mandalay, Bagan and Inle and some wonderful overnight packages to areas beyond the 'big four' destinations.
These unusual tours include a 4-day itinerary comprising Pyin U Lwin hill station and the remote northern Shan State region of Hsipaw. New offerings for 2013 also include a beautiful new cruise boat by Orient Express called 'Orcaella' (named after the dolphins unique to the Ayeyarwady), with 25 spacious cabins featuring floor to ceiling glass doors open to the river. The ship will start cruising in July and will cruise to more remote regions of Burma such as the far northern reaches of the Irrawaddy and the beautiful Chindwin River.
The Handmade Holidays brochure also incorporates Thailand, which like Burma, remains an increasingly popular destination, with a 50% growth in the number of independent travellers and 100% increase in Small Group Journey passengers with Travel Indochina over the last 12 months.
Beach destinations remain very popular, supported by the emergence of a range of new deluxe boutique properties across the country, such as the Sala Lana and 137 Pillars House boutique properties in Chiang Mai, and The Siam in Bangkok.
For longer stays in Bangkok, properties like Ten Face provide a good alternative to traditional hotels.
Koh Phangan is moving beyond a backpacker party destination with a range of new accommodation options available for those that want to enjoy the natural beauty of the island.