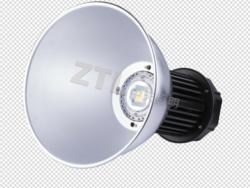 (PRWEB) December 24, 2012
Recently, Zhongtian Lighting introduces a new product-----80W high bay light [ZT-HB-1-80W] for commercial lighting, which is another popular product of Zhongtian Lighting's production line. It is lightweight, compact, silent, and easy to install. Meanwhile, it offers a passive environment-friendly solution without carbon dioxide emissions.
With its ultra-efficient 135 lumens per Watt efficacy, the new 80W LED high bay light can dramatically reduce energy consumption and maintenance cost as a direct replacement for conventional HID and fluorescent fixtures. Suitable for both indoor and outdoor applications, the new 10800 lumen high bay is CE and RoHS approved. The specification is as following:
Model: ZT-HB-1-80W
Rated power: 80W
Lamp beads: 1 piece
Net weight: 6kg
Housing material: pure aluminum shell and light alloy
Input voltage: 85-264VAC/DC,50-60Hz
Power factor: 0.90
Beam angle: 45, 120 degrees
Luminous flux: 7200lm(warm white), 8000lm(neutral white and cool white)
Average illumination: 250lux @ 6.0M, 138lux @8.0M,89lux @10.0M
Color rendering index: 75±5Ra
Color: Warm white/White/Cool white
Color temperature: (3000K-3500K),(4000K-4500K), (5500K-6500K)
Working temperature: -20℃ - 45 ℃
With the integration of optical design, mould tooling, and mass production in house, Zhongtian Lighting is able to offer its customers high quality led bay lights to meet the rapid demands of the lighting industry. So far it has developed the optical solutions for various types of applications, such as commercial lighting, architectural lighting, stage lighting, street lighting, high bay lighting, and railway lighting and so on, more than 100 types of standard optics, available with different beam patterns according to different requirements. Zhongtian Lighting's advanced technology ensures a lightweight and excellent heat dissipation solution.
Zhongtian Lighting is engaged to providing energy-efficient and affordable solution, so that cater to today's lighting needs. Zhongtian Lighting accepts small order of LED bay light, and can customize products according to customers' requirement with 3 years warranty. For more information, please visit http://www.zouled.com.