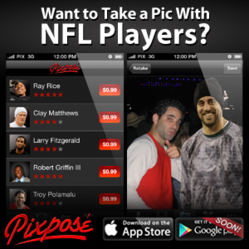 "We're excited to partner with Pixposé to deliver this special mobile experience to consumers," said, Nicole Pozzi, of NFL PLAYERS. "We're confident this app will help foster an even deeper connection between fans and their favorite NFL stars."
San Jose, Calif. (PRWEB) December 10, 2012
Pixposé today launched the first celebrity photo merging app to aggregate artists, athletes, and entertainers. Available at http://www.Pixposé.com, the app allows fans to merge a picture of themselves with a selected image of an artist, athlete or entertainer and then share that photo.
The free Pixposé app offers free and $0.99 photo packs. Each photo pack comes with five or more images that can be moved, resized, flipped and rotated to create a custom image that can be shared on Facebook, Twitter and other social media platforms. Pixposé is available on iPhone and is coming soon to Android.
Pixposé currently features music superstars such as Snoop Dogg and Daddy Yankee, Young Hollywood's Movie & TV Stars such as, Emmy Winning "Wizards of Waverly Place" and ABC Family "The Fosters" Star Jake T. Austin as well as athletes such as Ryan Newman (NASCAR) and NFL players including Tim Tebow, Tom Brady, Troy Polamalu, Aaron Rodgers, Clay Matthews, Adrian Peterson and Peyton Manning. The company is currently working with a variety of music labels, sports leagues and studios to roll out new content over the coming months.
"We want to provide fans around the world with the opportunity to take pics with their favorite artists, athletes, Hollywood personalities, idols and heroes," says Matthew Marks, CEO and co-founder of Pixposé. The old way to get a pic with celebrities was to take a pic standing next to a cardboard cutout or to be lucky enough to be in the right place at the right time. With Pixposé, taking a pic with your favorite stars is fast, fun and available in the palm of your hand.
Many people were instrumental in the launch of Pixposé, including Steve Koskie (former CEO of DipDive), Ken Waters (former CEO of Michael Jordan Golf), Brian Lemay (NFL Players Association), Nick Adler (Stampede Management), Damien "Big Percy" Roderick (RMM, Roderick Music Marketing) , and Ben Smith (the Lavidge Company).
Pixposé is dedicated to giving back to charitable organizations. Fans will be able to support non-profit organizations, charities and emergency relief funds through purchases. Additionally, many Pixposé personalities are also donating a portion of the $0.99 downloads to non-profit organizations. A sampling of charities includes PinkJams.org and the Ryan Newman Foundation.
Expansion plans at Pixposé include offering merchandise and online photo contests. These components will provide fans with additional celebrity interaction and the opportunity to win tickets, merchandise and even the chance to meet their favorite artist, athlete or entertainer.
About Pixpose:
Pixposé provides people around the world with the opportunity to take photos with their favorite artists, athletes and entertainers. The newly founded company is currently working with music labels, sports leagues and studios to add content for fans of all ages and interests. Utilizing a unique donation model, Pixposé also gives back to charities and non-profit organizations through a portion of its sales. Pixposé is headquartered in San Jose, Calif. and was co-founded by Matthew Marks, Kevin Flores and Jonathan Cascioli. For more information, visit http://www.Pixpose.com.
# # #
Photos available
Media Contact:
Ken Waters
310-513-5104
media(at)pixpose(dot)com