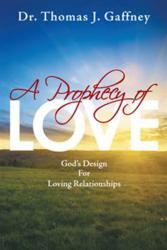 Stockton Springs, Maine (PRWEB) December 11, 2012
"Each of our lives is a passage in relationships, a search for loving," Dr. Thomas J. Gaffney believes. "We all try to figure it out on our own, drawing on our experience of living in the relationships of our lives against a backdrop of culture and world drama. If only we knew, God is with us every moment, guiding us to love like he does." To reveal how God would have people love, Gaffney pens his new book "A Prophecy of Love: God's Design for Loving Relationships" (published by WestBow Press).
By way of allegory, metaphor, a testimony and essay, Gaffney illuminates the essential form of God's love to encourage and inspire readers.
To illustrate the challenges to finding one's way to a loving way of life, Gaffney offers a testimony involving his mother Rosemary, his first wife Gretchen, and his present wife Theresa – all of whom helped him find his way. The testimony unveils God's intention to use everything that has ever happened in our relationships to guide readers into a loving relationship with Him, and a loving way of life.
"We live in a troubled world," Gaffney explains. "Financial insecurity, hunger, violence, greed and injustice reflect trouble in relationships on a grand scale. A proliferation of health problems and addictions, a culture of idols and entertainment, and the erosion of values and faith tell us we're not coping very well. Something critical is missing. Nowhere are we taught how to relate in loving ways! If ever there was a time we and our society needed to learn, it is now."
About the Author
Dr. Thomas J. Gaffney is a Christian, husband, father, psychologist, board-certified professional Christian counselor and organic wild Maine blueberry grower living in Stockton Springs, Maine. His life has been a study of relationships. He has devoted the last 30 years to promoting loving and healthy relating in rural Maine.
WestBow Press is a strategic self-publishing alliance of Thomas Nelson, Inc., the world's largest Christian publisher, and Author Solutions, Inc. (ASI) — the world leader in the popular self-publishing industry segment. Through this partnership, authors benefit from the rich publishing heritage of Thomas Nelson and the speed-to-market advantages of the ASI self-publishing model. Titles published through WestBow Press are evaluated for sales potential and considered for publication under the Thomas Nelson imprint. Thomas Nelson, Inc. continues to "inspire the world" with distribution of products in more than 100 countries worldwide. For more information, or to start publishing today, visit http://www.westbowpress.com or call (866)-928-1240. Follow us @westbowpress on Twitter for the latest news.
###