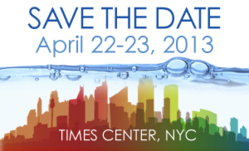 Hasbrouck, Heights, NJ (PRWEB) December 10, 2012
Leaders in the field of content marketing are signing on to share their expertise at Demand Gen Report's (DGR) second annual Content2Conversion Conference, to be held April 22nd-23rd, 2013 at the Times Center in Manhattan. The only event of its kind solely dedicated to B2B marketers, this event focuses on empowering B2B marketers with strategies for mapping, developing and utilizing content marketing to nurture the buyer relationship and enhance conversions.
B2B marketing executives in fields ranging from health care to financial services to high tech have committed to the 2013 event, which has been touted as a 'must-attend' in terms of education and networking. Also indicative of the event's success is the return of key sponsors and speakers, as well as new companies joining the lineup.
"Content marketing continues to be an increasing priority among B2B organizations, and we're honored to welcome our 2013 sponsors and speakers in their recognition of this unique opportunity," says Andrew Gaffney Editor of Demand Gen Report. "There's no greater testament to the success of an event than the return of attendees, sponsors and speakers, and we're proud to say we have far exceeded expectations in each category as we prepare for the 2013 event."
New speakers added to the agenda include top authors and thought leaders in demand generation and content including:

Joe Pulizzi - author, speaker and strategist founder of the Content Marketing Institute
Lee Odden - CEO of TopRank Online Marketing, digital marketing and online PR agency
Ardath Albee – author, speaker and CEO of Marketing Interactions Inc.
Margaret Molloy - Chief Marketing Officer at digital marketing agency, Velocidi
Michael Brenner - Senior Director of Global Integrated Marketing and Content Strategy for SAP
New and returning sponsors recognize the success of last year's event, as well as the need for a conference solely dedicated to highlighting strategies and tactics to utilize content marketing for engaging and accelerating prospects.
Current sponsors of the 2013 Content2Conversion Conference include the following companies:

Eloqua – a company that helps clients dramatically accelerate revenue growth through Revenue Performance Management.
Limelight Networks - an Internet platform and services company that integrates the most business-critical parts of the online content value chain.
Content4Demand - a division of G3 Communications, a BtoB firm specializing in e-media & custom content solutions.
KnowledgeVision - serves the needs of content marketers with the world's most flexible online video presentation platform.
Curata - enables marketers to easily find, organize and share content on specific topics to help save time in managing your content flow for your organization.
DemandBase - a Real-time Targeting and Personalization platform for B2B. Demandbase works by identifying the companies that are visiting a website, and then by making that insight actionable in your existing Marketing and Sales programs and technologies.
Ion Interactive – a company that provides scalable, agile landing page optimization and management.
For information on learning more about 2013 Content2Conversion sponsorship opportunities, please contact Dana Harder at 224-578-2099, dana(at)gthreecom(dot)com or click here to visit the event website.
About Demand Gen Report
Demand Gen Report (DGR), a division of G3 Communications, is a targeted e-media publication spotlighting the strategies and solutions that help Business-2-Business (B2B) companies better align sales, marketing and disparate teams to support growth and drive revenue. DGR content and news coverage focuses on the sales and marketing automation tools that enable companies to better measure and manage multichannel demand generation efforts. DemandGen Report is the only information source directly focused on this rapidly emerging business discipline.