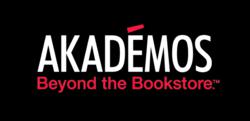 The intern program is a great way for our students to get real world business experience while helping their fellow students save money on college textbooks.
Norwalk, CT (PRWEB) December 11, 2012
Akademos, Inc., a leading provider of integrated online bookstores and marketplaces for educational institutions, announced the winners of the Akademos-TextbookX Intern Awards for effectiveness in marketing their college or university bookstore to other students.
Akademos has recognized Katy Zart from Northland College, Andrew Behnke from Wisconsin Lutheran College and Jonathan Kissinger from Central Bible College for their extraordinary work in marketing the organization's online bookstore.
Each has received a bonus (in addition to their already paid internship) and a textbook scholarship to apply towards purchasing course materials for Spring 2013.
In Fall 2012, Akademos implemented an internship pilot program at 18 schools nationwide. The interns at these schools marketed their institution's online bookstore by working with administrators on campus to create and/or disseminate marketing materials. The interns' grassroots marketing efforts helped spread the word to fellow students about the enormous textbooks savings available on their school's online bookstore and marketplace, with the goal of making college textbooks more affordable.
Northland College's Katy Zart was named the "hardest working" intern for going above and beyond her duties as an intern this semester. Not only did she help distribute the marketing materials Akademos provided to her, but she created her own unique marketing materials to fit the needs of Northland students and faculty. She constructed multiple webpages about the Online Bookstore on Northland's .edu website. Katy also attended orientation and on-campus registration events, sent emails to both students and faculty, posted on social media sites, and conducted research for a case study. Katy, along with Jess Wildes, Northland's Assistant Director of Recruitment Marketing, were instrumental in making their textbook program a success. Their efforts helped Northland students and staff with two missions—save money on course materials, and reduce their carbon footprint by implementing and encouraging sustainable bookstore practices.
Andrew Behnke, a student at Wisconsin Lutheran College (WLC), was coined Akademos' "most effective" intern. Andrew increased traffic to the Online Bookstore, increasing the number of books students purchased at a discounted rate as compared to Fall 2011. Andrew reached out to both faculty and students through multiple avenues—he sent emails, attended events, and distributed materials around campus. Total orders increased in large part due to Andrew, as well as Kyle Edlhuber, WLC's Campus Shop and Merchandise Manager. Their efforts helped students at Wisconsin Lutheran College save an average of 70% off the textbook list price through shopping on the marketplace.
The "most creative" intern award was given to Jonathan Kissinger of Central Bible College (CBC). Jonathan knew that in order to effectively reach out to students and faculty about the Online Bookstore, he had to think outside the box. He worked with Rick Miller, CBC's Executive Director of Campus Services, to make an announcement at mandatory morning chapel services. Additionally, Jonathan distributed marketing materials at a well-attended faculty-student softball game. Jonathan also placed a banner link on the school's website which increased referral traffic. His unique and engaging ideas went a long way in making the internship program at CBC a success.
"We would like to thank all of this year's interns for their commitment and enthusiasm," said Jen Slemp, marketing manager at Akademos. "The intern program is a great way for our students to get real world business experience while helping their fellow students save money on college textbooks."
Students attending Akademos partner institutions can apply for next year's internship by submitting a cover letter and resume via TextbookX.com— http://www.textbookx.com/emailus.php.
To learn more about Akademos' online bookstore service offerings for educational institutions, visit the Akademos website.
About Akademos
Akademos offers virtual bookstore services, eLearning solutions, and an innovative textbook marketplace to schools. Its comprehensive supply-chain solution and commitment to responsive personal service make Akademos a leader in providing affordable textbooks and digital learning tools for schools. Students can choose from new, used, rental, and eBook options while schools can reduce costs and increase operating efficiency. Faculty can search, discover and adopt new texts using the Akademos Textbook Adoption Tool at http://www.adoption.akademos.com. Akademos delivers the right course materials, at affordable prices, on time. Learn more about Akademos' direct-to-students ecommerce platform at http://www.textbookx.com and its offerings to partner schools at http://www.akademos.com.