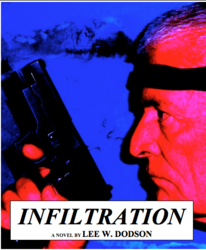 From a security standpoint, things don't get much worse than the opening scene of Lee Dodson's Infiltration. The book's protagonist, a 67-year-old rancher named Rand (picture a cross between Tommy Lee Jones in "No Country for Old Men" and Sly Stallone "
Los Angeles, California (PRWEB) December 10, 2012
In three weeks, Homeland Terrorism writer, Lee Dodson (Infiltration), has seen something he never expected. With only local outlets picking up the press releases, the
Today's View on Homeland Terror Survey garnered more than 850,000 respondents who frankly do not believe the government is telling everything it knows about Homeland Terrorism.
The survey piqued the interest of national publication Security Products Magazine's
Managing Editor, Ronnie Rittenberry, and he covered both the book and survey in the December issue saying this:
From a security standpoint, things don't get much worse than the opening scene of Lee Dodson's Infiltration. The book's protagonist, a 67-year-old rancher named Rand (picture a cross between Tommy Lee Jones in "No Country for Old Men" and Sly Stallone in "Rambo"), is awakened in his home in the middle of the night by the subtle but unmistakable sound of a silenced gunshot.
This:
It is a violent, bloody, and often tense book, and, unfortunately, the particulars of its plot are plausible. On that point, though, not everyone agrees. According to Dodson, some early readers of the novel have taken issue with the very idea that, more than 11 years after 9/11, an attack of the same magnitude— or worse—could happen again or likewise from within.
And this:
"I wrote a scary book, but I wasn't prepared for what I'm seeing in the letters of people who write me," Dodson said. "There is an undercurrent, an unspoken thing, and it's not fear or resignation—two big intended results of terrorism. It's an undercurrent of determination, a feeling of 'We will not be defeated, no matter what they do to us.' And that's largely the feeling of the book; it essentially says that at some point you're going to have to fight."
Dodson added that, meanwhile, he also is aware of a prevailing undercurrent of unpreparedness— a certain portion of the citizenry composed of, as he put it, "unserious people in a serious world."
"I think some of us have failed to recognize exactly how bad things can get," he said. "And I'm by no means pessimistic because holding this country would be hard to do— hard—but the bad guys can sure make us uncomfortable in a lot of ways."
Full article is entitled Bordering On Chaos.
Due to popular traffic on the survey, Dodson has decided to leave the site up for at least two more weeks to see how many more people want to respond. "It's odd that this thing went viral, and there isn't one query from the main-stream-media," he said. "One would think they wanted to ignore it."
Asked about the impact of the theme of the book, Dodson responded "Sometimes reality is indigestible, but truth grounded in fiction is what it takes to re-awaken people. We have a porous border, easy pickin's for an attack, and what I devised in the plot is absolutely possible. We need to address it."
Dodson's book, Infiltration, is available in all formats from Smashwords, iTunes, Barnes & Noble, Kobo, Diesel, but not yet available at Amazon.
"I'm hearing that Kindle, Nook and other e-readers are top Christmas gifts this year. Might be a good idea to give a pre loaded Infiltration as a first read. Great entertainment. Remember: Never give an empty Kindle or Nook. It needs a story on it to be complete."
Price: $.99
323-243-0404
[email protected]
http://www.skoshitiger.com/
Twitter: skshtgr11