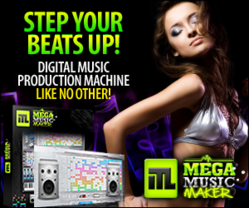 Beats That Hit Hard
Monroe, CT (PRWEB) December 12, 2012
Mega Music Maker is the creation of Producer and Musician Jamie Lewis, otherwise known as Nebula, the owner of Beats365.com
Mega Music Maker is the result of many years of hard work and development, creating the ultimate standalone (As well as online) beat maker. The interface can create whole songs in 16 stereo tracks using thousands of original sounds developed by producer Jamie Lewis.
After dominating the beats and Instrumental market since 2005, this new release is sure to make waves in the industry. The entire system with tutorials comes as a standalone production solution as well as an online access and use here.
The system is sold on Clickbank and features a generous affiliate program here.