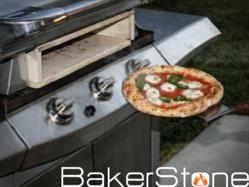 Transform your gas grill into a brick oven, deck pizza oven or convection oven and bake pizzeria quality pizzas at home.
Los Angeles, CA (PRWEB) December 18, 2012
Looking for a new, unique way to entertain family and friends? Ever consider hosting a "build-your-own pizza party?" Now, we aren't talking about a party for screaming kids, throwing around sauce, cheese and pizza dough and baking it on a pizza stone in a home oven, though that can be fun too. We're talking about making traditional pizzeria quality pizzas or classic Neapolitan style pizzas that are easy to create, delicious to eat and baked at home on a gas grill in around 90 seconds for Neapolitan style or 3 to 6 minutes for the traditional pizzeria quality pizzas.
Many people believe that the only way to produce high quality pizza in this short amount of time is to build a wood fired oven or purchase a pre-fabricated pizza oven. While both options will allow you to accomplish this, they can be extremely expensive and will take up a large amount of space that most people can't afford to spare in their backyard or kitchen. The BakerStone Brick Oven Box now offers another alternative that is both convenient and inexpensive. The Brick Oven Box allows the user to create pizzeria quality pizzas at home by using nothing more than a basic gas grill.
The Brick Oven Box is an easy to assemble cordierite box with a stainless steel cover that sits directly on the grates of most backyard gas grills. The Brick Oven Box is effective because it utilizes 3 different types of heat: Convective, Conductive and Radiant. It's simple, yet effective, design allows for temperatures ranging from 400 to 1000 degrees. These high temperatures allow the pizza creator, to cook pizzeria quality pizzas in 3 to 6 minutes and classic Neapolitan style pizzas in around 90 seconds. In addition to pizzas, The Brick Oven Box can also be used as a convection oven for baking items as one would in a home oven, or to produce perfectly seared steaks like those found in a high-end steakhouse.
BakerStone, LLC and The Brick Oven Box Project were created by Tim Case, a young entrepreneur from Chicago, Illinois. Tim's creative mind and slight obsession with pizza led him on a year long quest to develop a way to make pizzeria quality pizzas at home. What started out as a pile of firebricks, pizza stones and aluminum foil on his BBQ soon developed into an amazing product that he hopes will revolutionize at home pizza making.
The BakerStone Brick Oven Box is the perfect gift for anyone that loves pizza, grilling or simply enjoys fun & unique ways to entertain their family and friends. Currently, The Brick Oven Box is available on Kickstarter for as little as $119. For more information visit the BakerStone website or email Tim at tim(at)bakerstonebox(dot)com.