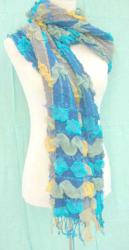 Blaine, Wa (PRWEB) December 10, 2012
Wholesalesarong.com has made available new collection of wholesale women's clothing and accessories for retailers in US and Canada.
As the weather turns progressively colder, wholesalesarong.com has unveiled its latest wholesale fashion accessories suitable for the cold season. Wholesalesarong.com is more than just another online store. With its warehouses and offices evenly spread out across US and Canada, Apparel & Sarong ensures that all shipments are delivered on time and on budget to every customer so that nobody miss out on the winter shopping season.
The latest range of shawls brought in by the company is indeed impressive. Not just by the wide selection and material quality, but also in its visual appeal. On the material side, retailers can decide from polyester or acrylic at one end of the scale, or they can opt for various compositions of pashmina content; from 100% pashmina, 70% pashmina 30% silk and 55% pashmina and 45% silk. These easy to wear clothing around your upper body, shoulder, or head come with crafted artisan prints and huge assortment of color choices. Customers can either leave the color or print choices to wholesalesarong.com for their orders (in which case, the company would pick up the stock randomly) or specify their preferences.
In addition to shawls, there are also the just as eye-pleasing wholesale scarves. Again customers are afforded rich choice in accordance to their budgets or fashion sense. Available in various materials, sizes and designs, these easy wraparounds are not just handy to keep warm, but they can be true eye turners as well.
While the latest products announcement is denominated by women apparels (which also include items such as ponchos, gloves and hats), the company does not ignore the male consumers. While they are more limited in term of expansiveness, they are really well represented, from the uniform nondescript to the very bold and quirky designs. In the area of hat choices, they cover beanie, skullcap and the good old fashion men's hat.
This latest batch of product offerings has further reinforced Apparel & Sarong's reputation of one of the biggest distributors in US and Canada. The comprehensive product range on offer means that it can serve as a winter season one-stop-shop for all businesses, whether retailer stores, online retailers, gift shop operators or novelty item sellers. Consistent with its policy to bring quality products at affordable pricing to the market, customers can be assured of great bargains when they do business with wholesalesarong.com. The company also offer attractive discount for bulk purchases.
Company info:
WholesaleSarong.com Apparel & Sarong is a distinguished US and Canada wholesale distributor who supplies Bali arts, clothing, fashion accessory, jewelry, dresses, sarong beach wear apparel, musical instruments to retailers and distributors. Products include didgeridoo, rainstick, djembe drum, rattle, shaker, maracas, thumb piano, rasta clothing bob marley jewelry, organic jewelry, earring, bracelets, necklaces, silver jewelry, maxi dresses, boho skirts, kaftan, pants, dancing wear, poncho, horn bone wood earlets, body jewelry plugs, gemstone seashell beaded jewelry, pashmina shawls, jewelry scarves, handbags, Affirmation Banner, bedcover, bronze jewelry, watches, sunglasses, beach towels, handicrafts made in Bali Indonesia.