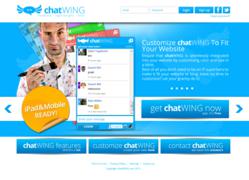 Miami, FL (PRWEB) December 10, 2012
Online chatting and web forums are two of the most engaged in activities in the World Wide Web. People enjoy sharing sentiments, ideas and experiences and gain advantages from the relationships created online. Web forums provide a free and dynamic avenue for chatting or web communication. Specific subjects or topics are discussed where everyone can freely express his perspective or share ideas. Chatwing team created a chat box to cater the forum makers need for a more dynamic online interaction.
The improved chat apps can be installed in websites or blogs in just three basic steps- register the site's domain name, adjust the size and color of the chat widget and secure the HTML code to accomplish the chat tool's installation. Chatwing chat box is capable of high customization options. Online users can alter and personalized the chat apps in a variety of ways. Forum makers can use attractive images related to the topic to make discussions livelier.
Active forum makers can install numerous web chat tools in multiple websites and assign unlimited moderators to each chat box. The chosen moderators need to have Chatwing accounts before they can ban members and delete inappropriate messages. Chatwing also has a word filter options that automatically blocks indecent terms and profane words. Admins and moderators have to set the list of inappropriate words that need to be blocked.
Social media integration feature makes it easy for Facebook and Twitter users to participate in forums and voice out their concerns while expanding their online networks. Before one is able to type in his message, he needs to provide his social media info. Chatwing respects others need for privacy, thus a user can still log in as guest. The chatbox has available cute emoticons and pop culture inspired avatars everyone would surely enjoy.
Chatwing chatbox also has various forms intended to a more specific communication requirement. To accommodate a thousand forum participants, forum makers can use the regular chatbox form or the pop-up window. On the other hand, the direct link URL option is ideal for a selective discussions and participants.
About Chatwing.com
Chatwing.com specializes in the new field of website chat. Over years, the Chatwing team has introduced live chat widget for hundreds and thousands of blogs. The Chatwing application bridges people from many parts of the world, creating global synergy through the Internet. The shout box can be installed in just seconds, and it can be used for varying purposes such as leisure and Internet marketing. It also allows a user to customize the size, color, and name of the widget. Chatwing is 100% free for everyone.