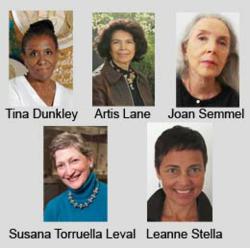 The Lifetime Achievement Awards were first awarded in 1979 in President Jimmy Carter's Oval Office to Isabel Bishop, Selma Burke, Alice Neel, Louise Nevelson, and Georgia O'Keeffe
New York, NY (PRWEB) December 13, 2012
The Lifetime Achievements Awards celebration is on Thursday, February 14, 2013 in New York, NY. The free awards ceremony is 6-7:30pm at the New York Institute of Technology auditorium on 16 West 61st Street New York, NY 10023 and the $150 ticketed Gala is from 8-10pm, at the nearby American Folk Art Museum, 2 Lincoln Square (Columbus Ave. and 66th). To purchase tickets, go to http://www.nationalwca.org/applicants/raffle.php.
The 2013 recipients for the Women's Caucus for Art Lifetime Achievement Awards are Tina Dunkley, Director of Clark Atlanta University Art Galleries; Artis Lane, artist; Joan Semmel, artist; and Susana Torruella Leval, Director Emeria of El Museo del Barrio. The recipient for the 2013 President's Art & Activism Award is Leanne Stella, founder of Art in FLUX, Harlem.
The Lifetime Achievement Awards were first awarded in 1979 in President Jimmy Carter's Oval Office to Isabel Bishop, Selma Burke, Alice Neel, Louise Nevelson, and Georgia O'Keeffe. Honorees have represented the full range of distinguished achievement in the visual arts professions. The President's Art & Activism Award is awarded to emerging or mid-career women whose life and work exemplify WCA's mission of creating community through art, education and social activism.
The Women's Caucus for Art was founded in 1972 in connection with the College Art Association (CAA). It is a national member organization unique in its multi-disciplinary, multicultural membership of artists, art historians, students, educators, and museum professionals. The mission of the Women's Caucus for Art is to create community through art, education and social activism. We are committed to recognizing the contribution of women in the arts, providing women with leadership opportunities and professional development, expanding networking and exhibition opportunities for women, supporting local, national and global art activism and advocating for equity in the arts for all.