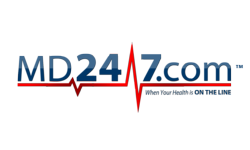 Christmas Flu Symptoms Discussed by MD247.
Tampa, FL (PRWEB) December 10, 2012
On Monday morning, MD247 released an alert to all telemedicine program members discussing the subject of influenza during the Christmas holiday season. The MD247 content creation team released the alert to all program members as a way by which to combat the alarming increase in reported cases of influenza.
MD247 explained that influenza, which is commonly referred to as "the flu," is a viral infection that is typically caused by either influenza virus A or influenza virus B. Symptoms such as muscle aches, bodily chills, possible fever and a persistent cough can mean that a patient is coming down with a case of "the flu." Common during the days when kids are heading back to school, and the rest of us are getting shut into smaller and much more claustrophobic settings, influenza does have the capacity to strike during the very festive and equally hectic holiday season. The MD247 alert gives all members a brief guide to determine if they have a common cold, or if they are unfortunate enough to have acquired the flu.
Largo Florida based MD247.COM (MD247; MD/247; MD 247; M.D.247; MD-247) provides an affordable telemedicine supplement to existing healthcare services. MD247.COM telemedicine program members have unlimited telephone access to a nationwide medical support team, all with just a single phone call to the MD247.COM telemedicine Chat With a Doctor/Talk to a Nurse Hotline. MD247.COM has a virtual platoon of registered nurses; board certified physicians and a support staff available to members for all non-emergency situations. More information about MD247.COM is available online at http://www.md247.com.