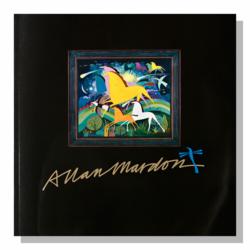 Renowned Artist, Allan Mardon was featured as Western enthusiasts from around the world flocked to see his three new works
Tucson, Arizona (PRWEB) December 10, 2012
The Buffalo Bill Art Show & Sale benefits the prestigious Buffalo Bill Historical Center and was held in conjunction with the Center's Patrons Ball and Cody High Style, all part of Cody, Wyoming's annual "Rendezvous Royale Immerse Yourself in the Arts." Renowned Artist, Allan Mardon was featured as Western enthusiasts from around the world flocked to see his three new works. In its 31st year, the September event was a tremendous success and raised approximately $2 million.
The State of Wyoming continues to be recognized the world over as both the preserver and celebrator of Western style and design traditions. It is the place to showcase the latest efforts of seasoned professionals like Allan Mardon, along with fresh new talent – a wide variety of fine artists, artisans, fashion designers, and craftspeople. Mardon has participated since 1998 and is considered one of the most well regarded contributors.
During the main event held in a beautifully decorated party tent adjacent to the museum, guests viewed the full exhibition of over 100 spectacular original oil paintings, pastels, watercolors and bronze sculptures. They then enjoyed local cuisine and beverages during the spirited, four-hour auction.
Mardon contributed three new works for this year's Art Show & Sale:
1. "Wyoming Elk" is of a traditional tri-color, running bull elk with backdrop of Wyoming landscape, 18 x 18 inch oil on native birch board. This work was in the juried Opening Miniature Show and Sale.
2. "McCullough Peaks Mustangs" is one of 50 pieces invited for the Silent Auction, 27 x 27 inch oil on canvas with custom frame, showing three Paint Mustang horses and the mountain peaks visible from downtown Cody. Proceeds were donated to The Buffalo Bill Historical Center.
3. "The Great Race" was a highlight of the Live Auction. It is a 48 x 48 inch oil on canvas portrayal of the compilation of three Cheyenne and Crow Tribal stories about the Black Hills area known as Buffalo Gap, told at the 1968 Crow Agency in Wyoming. The colorful painting depicts the living web of mutual aid and respect the Native people have for the animals, a race where the hummingbird as surrogate for mankind beat the legendary buffalo in a race for power. The hummingbird is Mardon's long time signature logo, a whimsical blue image discreetly included in each of his paintings.
After retiring from a long and successful career as an illustrator in New York City, Allan Mardon began a series of paintings depicting the history and culture of Native Americans. Employing a primitive and narrative style inspired by the graphic beauty and legends of the Southwest, his paintings have been recognized by many of the major collectors and premier museums in this country. The Battle of Greasy Grass, Mardon's highly-acclaimed depiction of the twenty-four hour Battle of Little Big Horn, graces the permanent collection of the Whitney Gallery of Western Art in the Buffalo Bill Historical Center.
Mardon's recent endeavors include the book The Narrative Art of Allan Mardon, and eight paintings debuted at the Bradford Brinton Memorial & Museum in Big Horn, Wyoming. The show was called "A Sharper View of the West" Show, done in conjunction with [Nighthorses Fine Art & Publishing founder, Ted Larsen, himself an artisan of collectible Damascus steel knives. Several of these paintings are now on tour in Jackson, Wyoming, at The Turpin Gallery through early 2013.
Allan Mardon lives in the historic Barrio District of Tucson, Arizona, and is represented worldwide by Nighthorses Fine Art & Publishing. His 2009 book The Narrative Art of Allan Mardon is available in hard bound, perfect bound and a leather bound, limited Collector's Edition in library presentation box with a unique piece of art. Elegant notecards of a selection of twelve classic Mardon paintings are also available.
About Allan Mardon:
Born in Welland, Ontario, Allan Mardon studied at the Ontario College of Art in Toronto. In 1953 he received the prestigious Lieutenant Governor's Silver Medal. He did his postgraduate work at the Edinburgh School of Art in Scotland and at the Slade School of Fine Art, University of London. Mardon, who has designed graphics for the Canadian Broadcasting Corp., also was an animator for the National Film Board of Canada in Ottawa. Over fifty of his pieces have appeared in Sports Illustrated, as well as in McCalls, and Redbook. His Time portrait covers include the Shah of Iran, the premier of Spain, and the President of Greece. Allan's 5,000 pages of advertising illustration covered diverse fields, from razors to earth moving equipment to luxury condominiums.
Mardon works in oils, with a little bit of ink here and there. His work can be found in the collections of Canadian Artists in the Toronto Art Gallery, in 200 years of American Illustration in the Society of Illustrators and in the private collections of John Gertz, Andrea & Bruce Lorig, Tom DuPlain, Peter Mosse, and George Russell, to name a few.
Allan Mardon debuted a spectacular collection of over fifty of his greatest narrative paintings in a limited-edition book in January, 2010. In this new book each painting graces a full page in enhanced digital photography, seizing the essence of Mardon's genius. "I wanted to capture all of the rich detail of the legends, stories and animals that have inspired my work," said Mardon. Mardon's paintings can be found in extensive public, corporate and private collections in the United States and abroad; hence, many of the paintings in private collections have not been seen in years, their true wonder only surfacing today in this rare collection. "I am pleased to share this compendium of work that characterizes my life's passion for art," said Mardon.
In addition to the collection of masterpieces found inside, Mardon has personally designed every other detail of the book. The hide-bound cover features the painting Nighthorses, his signature emblazoned in gold leaf, and his trademark humming bird in "Mediterranean blue". Mardon wrote and illustrated each page separately, each painting described in "walnut" ink in the artist's own hand writing. The end papers specifically chosen for this project are photos of Mardon's palette of 40 years, literally decades of paint, layer upon layer. Mardon's style is further exemplified in the clamshell library presentation box, and he is including a unique, original piece of art opposite the cover of each book. This is an exclusive offering of 100, hand-signed and numbered books.
To order a copy of the limited edition book, go to http://allanmardon.com/galleries/new-works/the-narrative-art-of-allan-mardon/ and select buy.