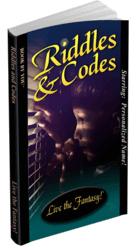 Personalized books motivate kids to read real books!
London, ON (PRWEB) December 10, 2012
Book By You, the leading publisher of personalized novels, proudly presents their latest personalized kids book, "Riddles and Codes," featuring two talented children who puzzle over a coded competition. Presented in a professionally bound, full-length novel with personalized names and features throughout, and available in paperback or hardcover, this personalized book will make an amazing gift full of fascinating twists and thrilling turns.
When a school-wide contest is announced, the friends—who call themselves The Detectives—are excited and enthralled. Each day, the students receive papers marked with cryptic words, and it's up to them to figure out what the clues mean before time runs out. With secret messages to decode, riddles to unravel, and a myriad of clues to uncover, the friends find themselves on a fabulous adventure, infused with excitement and competition. Along the way, The Detectives face challenges, setbacks, and misleading clues at every turn. Rife with intrigue and mystery, this personalized tale delivers as many smiles as riddles and is sure to become an instant favorite.
The puzzles in "Riddles and Codes" will educate and entertain children of all ages, as they stretch their imaginations and their brains while decoding messages and solving riddles alongside their personalized characters.
At BookByYou.com adults and children can co-author "Riddles and Codes" by selecting the names, physical features and places to personalize. With over 20 features to customize, children can put themselves in the leading role and include friends, relatives or even their favorite TV characters. The character questionnaire, available on the Book By You® web site, is fun and easy to complete, with characters and features such as hair color and length, eye color, friends' characteristics and more. "Riddles and Codes" even features a personalize-able pet. The story's many personalized features make the company's personalized books a great gift. This professionally bound book is available in paperback or hardcover.
When kids see their personalized novel, with their own names, along with familiar people and places in their story, they are excited to read. "Riddles and Codes" offers plenty of opportunities for children to work out the puzzles and unscramble the codes themselves, even as their personalized characters do the same. With an engaging storyline packed full of laughter, children will become absorbed in the story and excited to see how their personalized story ends.
Mike Pocock, founder of Book By You, says, "Reading 'Riddles and Codes' is an engaging read for every child! Readers can test their wit by trying to decode the messages before they're revealed in the text, and they'll love seeing their own name and names of their friends on the page while the story unfolds. Personalised books are the best way to motivate kids to read real books."
To purchase personalized children's books, riddlers go to the company's website at BookByYou.com and complete a character questionnaire specifying the information to be included in their book. The company offers a free demonstration area where readers can preview personalized excerpts from any of the company's teen, romance, mystery or children's personalized books.
BookByYou.com's personalized romance novels have received national media coverage and been featured on ABC's The View, CNN, Fox News, The Wall Street Journal, Jimmy Kimmel Live and many additional media outlets.
BookByYou.com is an interactive publishing company and is the world's largest provider of personalised books. Media interviews, promotions and give-aways are available upon request. Please contact Michael Pocock at 1-877-898-1440 or publish(at)BookByYou(dot)com