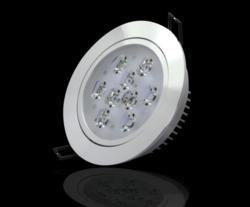 (PRWEB) December 26, 2012
Zhongtian Lighting, a top supplier in LED lighting industry in China, is glad to introduce the new product [ZT-D135-911A] to customers all over the world. This further simplifies uses and allows consumers to enjoy an effective, low energy solution for lighting in the home. For business users, particularly those within the hospitality sector such as bedrooms, sitting rooms, shopping malls, supermarkets, offices, advertising boards, bars, hotels, resorts, lobbies, buildings, stage decoration, etc. The new light will provide instant plug-in savings, through reduced energy and maintenance costs, in comparison with traditional lamps.
Zhongtian Lighting develops highly compatible lenses with an 85% light transmission efficiency, which caters to different kinds of light sources and deliver a more uniform light pattern. A high quality light weight heat sink has been developed for the rear of the down light that ensures any heat produced by the LED's is dissipated effectively without compromising on performance. The company makes improvements to the thermal design so that it becomes possible to efficiently release heat from each component of the power supply circuit inside the heat sink. The technical specification of the LED down light is as following:
Model: ZT-D135-911A
Shade dimension: D135*H42.5mm
Rated power: 9W
Lamp beads: 9pcs
Housing material: 6063 aviation aluminum
Net weight: 450g
Input voltage: 85-264VAC/DC,50-60Hz
Efficiency: 0.90
Luminous flux: 750lm±50lm
Beam angle: 15/18/30/45/60degrees
Color rendering index: 75±5Ra
Color: Warm white/White/Cool white
Color temperature: (3000K-3500K),(4000K-4500K), (5500K-6500K)
Working temperature: -20℃ - 45 ℃
Luminous efficiency: >70lm/w
LED down light has a quick response speed, which can completely get rid of the disadvantage of traditional high pressure sodium lamp starter. Using first-class water-proof constant current power supply driver with pure aluminum shell, broad voltage design of 85-264V, precise smart control circuit system, which gains LED lamp a longer lifespan. With solid package, it is very convenient to transport and can be installed in any equipments as well.
Zhongtian Lighting will also present an alternative to fluorescent lighting high luminous efficiency and energy efficient. For more information, please visit http://www.chunled.com/3/.