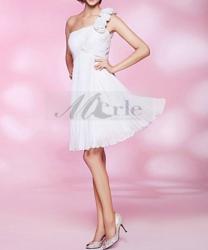 (PRWEB) December 10, 2012
Recently, MerleDress, a leading wedding dress online shop, was pleased to release its Formal Dresses 2013 series, which covers a large collection, ranging from A-line style, mermaid to one shoulder and strapless pattern.
The new designed website of MerleDress.com allows customers to search its dresses by specific criteria such as color, price, style, and occasion to find their perfect dresses easily. No matter short, long formal dresses, or semi-formal dresses, the results will jump out with some clicks of a mouse.
Donnie Terry, CEO of the company, said, "Walk with grace as you exhibit the subtle elegance of dress, our formal dresses and evening dresses 2013 series will surely make you the star of the night. We are proud to be a player in this industry for five years, providing a large selection of woman dresses."
The formal dresses from MerleDress can be worn to several different dances, including prom, Quinceanera, sweet 16, and so on, and they tend to be long or have been elegant detailing such as beading or flowing material.
When talking about the security of shopping online, Donnie Terry stressed, "Customer information given such as email and address is strictly confidential and will not be used or given to any 3rd party. In addition, each dress goes through a strict inspection process before delivery. If you have a problem, simply contact us and the necessary steps will be taken to make it right for you."
About MerleDress
MerleDress.com is the leading supplier of wedding dresses, prom dresses, evening gowns, and wedding dress accessories from China. MerleDress is famous for its outstanding quality in fabric, materials, and fit without the inconvenience and costs of traditional bridal boutiques and retailers.
For more about Merle Dress, please visit: http://www.merledress.com/