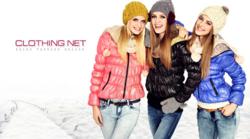 I did my shopping at clothing.net twice and all the times everything worked fine, the items are so so cute! And the price is even better! I trully recomend everybody to shop at clothing.net! - By Ana
Foshan, Guangdong (PRWEB) December 22, 2012
Clothing.net has a goal to make online shopping simple and affordable for every visitor to the site. That is why the online Asian fashion store recently revamped their website to be more user-friendly and aesthetically pleasing. Even though they have a new look, shoppers can expect the same reliable brands, low prices and large selections for men, women and children.
In 1997, the creators of Clothing.net had a vision to create an online shopping experience that would be convenient and affordable for any shopper. By ordering items in bulk quantities, they are able to keep their prices affordable for everyone. Each article of premium Chinese clothing is inspected to ensure that it is the high quality that customers expect and fast delivery is guaranteed. Over the years, this website has become a favorite among students and parents who are looking for great prices and a large selection without having the leave their homes. There are many styles available, including the newest lines of Korean fashion and a vintage shop.
The stylists who work for Clothing.net write a fashion blog that can be found on their website as well. They offer ideas for staying trendy and keeping styles fresh all year long. Also, the blog shows visitors how to mix and match different pieces from the online store to create a whole wardrobe. One of the writers for the blog, Melody, comes from a background in fashion and shares her expertise with readers. "My job is so much fun because I get to do what I love and stay on top of all of the latest trends. It is nice to get to share that with the visitors to our site, and to be able to point them in the right direction for where they can purchase everything we write about," she says.
About Clothing.net
Since its beginning in 1997, Clothing.net has been a desired platform for clothing suppliers in Asia to connect with customers worldwide. The brands featured on the site come from China, Hong Kong, Taiwan, South Korea and Japan. They are trendy and yet affordable, and there is a wide selection of constantly updated styles to choose from. Shipping is easy and reliable. Every purchase leaves the warehouse within 48 hours, and will arrive at the customer's door step in 7-10 days. The company is the lead supplier of Chinese clothing and Korean fashion online. The site is owned and operated by Guangzhou ShangDu Network Technology Co., Ltd. focusing on quality products and excellent customer service has always been their number one priority, and they will continue with that legacy into 2013.
Contact:
Melody Hu
Phone: 0086-20-81425931
Email: service(at)clothing(dot)net