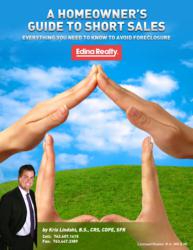 above all else--with the possibility of foreclosure ever looming for those that miss mortgage payments--time is of the essence if we are to get your home sold
Blaine, MN (PRWEB) December 10, 2012
"My newly published eBook titled 'A Homeowner's Guide To Short Sales' reveals a lot about the short selling process, but there is one very important thing to remember that I am revealing here now: above all else--with the possibility of foreclosure ever looming for those that miss mortgage payments--time is of the essence if we are to get your home sold," says Kris Lindahl, the #1 Edina Realty short sale agent.
"I have learned the nuances of the short sale process by actually using them during the course of serving my clients," Kris Lindahly says. Kris Lindahl has broken two records year to date for 2012 in both sales and sales volume. He has sold over 130 houses at a $23 million sales volume and earned himself the Chairman's Award from Edina Realty again.
"It's a combination of hard work and exclusive technological advances that gives me the edge," Kris Lindahl explains, and continues, "I'm somewhat of an Internet Marketing Specialist."
"I believe that in order to buy or sell a home in this day and age you must have the best tools at your fingertips. For this reason I've created several online resources for those looking for information and made myself and my team easily accessible," Kris Lindahl says. "This goes back to the important point that time is of the essence. Without the best tools, and the best agent, at your disposal time will not be on your side."
Call the experienced real estate agent Kris Lindahl at (763) 607-1415. Download the eBook titled "A Homeowner's Guide To Short Sales" and check your eligibility at the Minnesota Short Sale Calculator website. Check out the Kris Lindahl website for more information and personalized help.