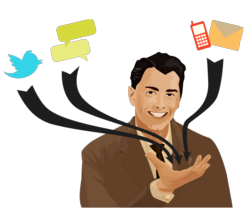 Based on the uptake and customer feedback, we see a big demand for enterprise class CRM technology made specifically for SMEs. And we meet this demand. It's that simple."
Amsterdam, the Netherlands (PRWEB) December 12, 2012
Casengo, all-in-one customer support software that seamlessly blends the best of email and live chat, is officially launching today. Since moving into public beta two months ago, over 20,000 customers have received email, chat and Twitter support powered by the Casengo application.
Without active sales, marketing or external funding, the Amsterdam startup now welcomes over 10 new signups a day. By the end of 2013, Casengo expects its users to have supported 2 million happy customers. Most signups are webshops and small to medium-sized companies eager to give each potential customer a fast, personal response at his or her convenience. They have reported an online conversion increase of up to 60% and a decrease in response times by 300%.
According to founder Floris van der Veen, the product strikes a chord because of the hybrid messaging functionality that makes Casengo stand out from similar software. "We go further than just combining channels: Casengo actually enables companies and their customers to switch from email to live chat within the same support session. No more time-consuming games of email ping pong. Get to right the point and exceed expectations."
The usability of the software and its attractive pricing - first user license always free, next licence only €39 a month - is enticing companies away from other well-known ticketing and support software solutions. They can get up and running within 2 minutes.
Today's launch is combined with a new product release, of which the addition of phone call management is the most noteworthy. All chat, email, social media and phone conversations are logged in Casengo's universal inbox for an overview of support requests and customer history.
Accessibility was the key focus for this release, which includes plugins for popular CMS tools Wordpress and Drupal, plus an iOS app that will be available by the year's end. Future product development will include full integration with social media, telephony and third-party applications. "Based on the uptake and customer feedback, we see a big demand for enterprise class CRM technology made specifically for SMEs," says Floris. "And we meet this demand. It's that simple."
About Casengo
Casengo's cloud application for customer support blends the best of email and chat. It empowers webshops and other small businesses to more readily deliver the right answer at once. Passionately founded in 2011, devised and developed in Amsterdam. Check out casengo.com for more details – and more happy customers.