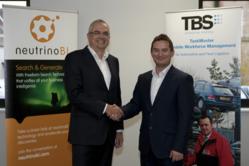 Embedding a data discovery tool such as NeutrinoBI in our enterprise mobility platform makes perfect sense; it ... allows fieldworkers and managers to make the most of the business information at their fingertips.
Birmingham, UK (PRWEB UK) 11 December 2012
NeutrinoBI and TBS Enterprise Mobility have today announced their new partnership, which will revolutionise Business Intelligence with real-time data from the mobile workforce.
TBS's award-winning TaskMaster enterprise mobility platform captures highly accurate information direct from the frontline of business operations using mobile devices. This powerful data will soon be combined with NeutrinoBI's innovative data discovery and visualization tool, providing managers with up-to-date, holistic visibility that will underpin business-critical decisions.
By partnering with NeutrinoBI, TBS aims to optimise daily decision making, as managing director Steve Reynolds explains; "Business intelligence is both the operational lifeblood of today's business, and the means of delivering vital insight that can enhance efficiency, profitability and competitiveness. Embedding a data discovery tool such as NeutrinoBI in our enterprise mobility platform makes perfect sense; it provides a new dimension of information that allows fieldworkers and managers to make the most of the business information at their fingertips. It means that they can fully utilise BI insight to enhance the speed and quality of day-to-day decision making."
By embedding crucial mobile data in Business Intelligence, organisations will benefit from unprecedented granularity and validity of information, instantly accessible from any location. This will result in faster-pace of strategic analysis, taking a fraction of the time that was previously necessary, and will enable robust, dynamic business decision making which is no longer based on out-of-date records.
One of Gartner's Cool Vendors in Business Intelligence and Analytics for 2012*, NeutrinoBI delivers next generation BI by combining intuitive data discovery with interactive visualization. Jon Woodward, CEO of NeutrinoBI comments:
"Adding NeutrinoBI to the TaskMaster platform means that fieldworkers and managers will benefit from cool, clear dynamic dashboards customised, scheduled and delivered to meet their needs. Users are also equipped with the ability to perform their own internet-like 'freeform' search to discover the answers they need to today's business questions, without seeking assistance from IT."
Both Jon Woodward and Steve Reynolds will be discussing the opportunities arising from the integration mobile data with Business Intelligence at the free-to-attend Mobilise Your Workforce event, which is held at Microsoft in London on Thursday 13th December, from 10am – 2pm. More information can be found at http://www.mobiliseyourworkforce.com
TBS has 20 years' experience in the enterprise mobility space, and its sophisticated TaskMaster platform is driving efficiencies and consistent process adherence in organisations across a broad spectrum of sectors worldwide. NeutrinoBI's data and visualisation tool is expected to be available on the TaskMaster platform at the beginning of 2013.
For more information about TaskMaster visit http://www.tbsmobility.com and for further details about NeutrinoBI go to http://www.neutrinoBI.com .
For further information, images or to arrange an interview, please contact:
Debbie Beech – debbie.beech (at) neutrinobi (dot) com
Tel: 07779 025073
About NeutrinoBI
NeutrinoBI was launched by Neutrino Concepts in October 2011. This ground-breaking data discovery and visualization tool delivers rapid insights to today's business challenges through true self-service business intelligence.
Create cool, clear, dynamic dashboards and respond to new requests for business information in a matter of minutes. Give your data explorers the freedom they've been waiting for; our intuitive freeform search empowers business users to discover new insights for themselves, whenever and wherever they are. With rapid implementation that combines all your data sources in one application, NeutrinoBI accelerates discoveries to support today's agile business. NeutrinoBI: It's BI at its agile best.
For more information visit http://www.neutrinoBI.com
Stay in touch
Twitter: @neutrinoBI and @JLWoodward
LinkedIN: neutrinoBI and Jonathan Woodward
Blog: http://www.nBI-blog.com
About TBS Enterprise Mobility
1. TBS Enterprise Mobility was founded in 1993 to provide mobile computing software solutions to bridge the gap between office systems and the fieldworker.
2. TaskMaster is an enterprise mobility suite of applications designed to eliminate costs and inefficiencies, and drive adherence to business processes.
3. TaskMaster is used by thousands of global users across a variety of sectors, from construction, FM and MEP service companies through to utilities and fleet management.
4. http://www.tbsmobility.com @tbs_mobility
*Gartner does not endorse any vendor, product or service depicted in its research publications, and does not advise technology users to select only those vendors with the highest ratings. Gartner research publications consist of the opinions of Gartner's research organization and should not be construed as statements of fact. Gartner disclaims all warranties, expressed or implied, with respect to this research, including any warranties of merchantability or fitness for a particular purpose.