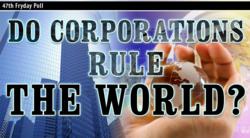 A small group of 147 'Super-corporations' controls over 40% of the wealth in the global economy. More facts in the Infographic
San Jose, CA (PRWEB) December 10, 2012
A study conducted by the University of Zurich in 2011 took a look at what they called 'super-corporations' – a small group of companies that wield incredible power in the context of the global economy. A small group of 147 'Super-corporations' controls over 40% of the wealth in the global economy. Economists from across the world have been incubating various theories about economy and the power of corporations. Now, in the latest feature in their FryDayPoll.com series, MapsofWorld have come up with an exciting new Infographic-poll - Do Corporations Rule The World?
Apart from taking a look at super-corporation MapsofWorld takes users through a variety of interesting ideas including corporate-personhood and the growing influence of corporations on governments world-wide. The Infographic has an interesting section about the most influential brands and corporations on the social media space and across the world. Some of the most interesting sections of the Infographic – the influence of corporations on media and the spread of global corporations – are eye openers. MapsofWorld calls users to vote and share their views on their website making this an interesting and open feature of the portal.
Mapsofworld.com is one of the world's largest mapping and content portals and has been adding Infographics about a variety of topics to their site. The portal has over 25 million map downloads till date and has over 66 million visitors to its credit.
About the company:
MapsofWorld.com is a multilingual portal offering high-quality maps and information across geographies and platforms. With special focus on educational content, the portal has thematic as well as interactive maps on all major platforms: Web, iPhone, iPad, iPod, and Android. World Atlas and World Quiz are two highly successful educational apps have been downloaded. Other services offered are custom mapping, content digitization, and the online map store.