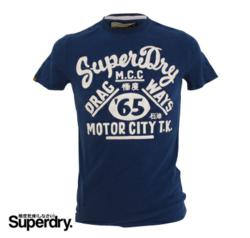 Enjoy a fresh eclectic mix of men's and women's product brought together under one roof.
(PRWEB UK) 12 December 2012
In recent years, Triple S is one of the leading name in the fashion industry across the world. With a potential base of national and international customers Triple S is known for offering high quality of superdry clothing range, which also includes Superdry Hoodies and Superdry T Shirts. The new name yet extremely stylish line of clothing offers a true mixture of trends and uniqueness. Offers quality clothing for men and women, one can explore here a diverse range of products according to their choice. Since, everything is available under the ingle roof as well as online, customers can shop full energy, passion and fun from.
Triple S was initially started as the small store of street wear brands in 2000. With the passage of time, they have grown into a new and famous name in the youth fashion. Quite a few numbers of stores of Triple S are located in the north east of Sunderland, Durham,Gateshead Metro Centre and Newcastle city centre. They already have six stores in the city and the seventh stores are going to be opened in the central distribution centre.
At present Triple S, is one of the most trusted shopping hub. Thus, shopping online with Triple S is nothing of hassle and rest assured that the products and shipping services offered by them are of highest caliber. Recently, they have launched a new line of brands, which includes Friend or Faux, Trash, Levis, Mi Pac, Native Youth, Panuu, Vans.
Among the most famous and highly sought after product range, mention should be made of the Superdry Artic windcheater. It's an awesome item, which is really great in the winter. Not only because its highly fashionable, but also it offers wonderful protection from cold wind. It has a fleece lining in the body as well as in the hood of the jacket. For proper coverage from wind, there is triple zip. It stops the wind to enter inside and the rubbed collar and cuffs offers maximum guard against the elements. This awesome Superdry windcheater is available in new brands like Friend or Faux, Panuu and Trash.
Hoodies Tshirt has always been an important fashion items for both men and women. With Triple S it has achieved a new range and height. The Superdry hoodies has introduced the coolest ways to stay warm. Originally, it was a casual housewear, which was grew up into something more stylish than normal sweatshirt or sweater. The product line of Triple S offers perfectly weather resistant jacket, stylishly lined with warm materials and a water resistant exterior. This exclusive design gives Superdry hoodies a revitalized look and a trendy finish. At Triple S, ne can explore a comprehensive range of hooded designs in long sleeve jackets. There are also gaining popularity in countries with essentially cold climate. These long sleeve winter wears can be used as a light sweater. The colors and style choices of available hoodies at Triple S is also extensive. Today, when the world is so focused son class and fashion, a stylish Supedry hoodies from Triple S can definitely add brightness to the wardrobe.
Apart from the winterwear, Triple S is always a well known name when it comes to the casual dreses For both men and women, and according to their choices, Triple S can offer a great product. In this connection mention should be made of the leopard print t-shirt and design by Pannu, Friend or Faux and other. In this season the leopard prints with graphic and photo print have earned enough attention and Triple S caters to the diverse needs of their customers worldwide.
Over the past few years, Tshirts with animal print were catching market like fire. Triple S has also made the experiment with the same. They have made the best use of graphics print and made geometrical shapes on their clothing line. From leopard print design and animals to big back prints, the Superdry T shirts of Triple S are unique in every possible ways.
To have a detailed idea about the Superdry clothing range at Triple S, you can refer to the following address.
Triple S Clothing ltd
Contact Person:David Welch (Manager)
Address: Triple S, Unit 3 (Next to bebe house)
Dukesway, Team Valley
Gateshead, NE11 0PZ
Email id : info(at)triplesclothing(dot)co(dot)uk
Phone 0191 491 4332
Website: http://www.triplesclothing.co.uk