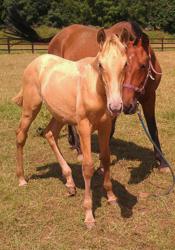 London (PRWEB UK) 10 December 2012
'Pearl of Peace' is genetically one of a kind. Known at home as Oro, this PRE Andalusian colt is the UK's first ever 'golden horse'. His golden coat is the result of careful breeding; Pearl of Peace possesses the double pearl and double black gene – the only horse of his kind in the United Kingdom.
Born in March 2012, Pearl of Peace in an exciting breeding prospect - not only does he have the double pearl and double black gene, he is also from exceptional bloodlines. Many of his predecessors have proven to be top quality dressage and sport horses. Including his great grandsire, Gaucho III. Pearl of Peace has been bred with the intention of becoming a Grand Prix dressage horse, and his breeding history will stand him in good stead for this. Gaucho III is internationally known as one of the top dressage stallions in America and was shortlisted to compete in the 2000 Sydney Olympics.
As the first 'golden horse' in the UK, his owners – Equus Vita - want to continue the Pearl of Peace exceptional bloodlines and are utilising Graphic Evidence's skill set to increase awareness of his breeding. Graphic Evidence's public relations work on behalf of Pearl of Peace includes social networking and interaction with the media to promote his future availability for stud services. Once he is three years old, stud services will become available. To find out about future breeding from Pearl of Peace, please visit his Facebook page.
Graphic Evidence are a full service creative marketing agency, with a range of services and in-depth experience in branding, print design, website design, packaging design and public relations. To find out more or to see examples of our completed projects, please visit http://www.graphicevidence.co.uk