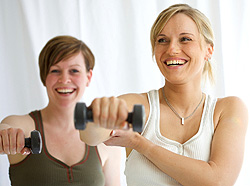 Personal training has become a lifestyle choice for millions and is no longer just a fashion statement for the wealthy.
London, United Kingdom (PRWEB) December 11, 2012
Once seen as just an 'accessory' for the rich and the famous, personal trainers are now big business - creating a multi-million pound Industry that has become mainstream - accessible to just about anyone and available almost anywhere. There is no longer even any need to step foot inside a gym as the fastest growing trend within this burgeoning Industry is for in-home personal training – a service that gives us all the benefits of a gym trainer, but in the comfort and seclusion of our very own living room.
MotivatePT - who provide personal training to thousands of customers across the United Kingdom every month - have experienced 25% year-on-year increases in their customer numbers over the last 5 years, in spite of the prevailing economic climate. Tony Richardson, Commercial Manager at MotivatePT comments, "Global obesity levels are continuing to rise and this is certainly not likely to change any time soon. Yet people's attitude to spending money on their own health and fitness has changed considerably over the last decade, with most no longer considering investment in their health as an indulgence but rather a necessity. In our 2012 customer survey, over 88% of our clients told us that they view their personal training as a long-term investment in their health – no different from buying organic food or paying for private medical insurance. Personal training has now become a lifestyle choice for millions of people and is no longer just a fashion statement for the wealthy."
Dean Elliot recently left behind an 8 year career as a lawyer in order to follow his real passion in becoming a personal trainer in London - something he had been wanting to do for years. "I used to wake up each morning, dreading the daily commute and I felt my job was just empty. I have always had a passion for fitness and one day just made the decision to change my life and do something that would reward me and help others. I got myself qualified as a personal trainer, joined MotivatePT and have never looked back."
As the Industry continues to expand, more and more people are now entering the personal training profession from a wide range of different career backgrounds. The main requirements remain a passion for fitness, an empathy and understanding for people, and above all great motivational skills. Simon Osbourne became a fitness trainer after a 15 year career in the armed forces. "When I left the army and returned to the UK, I wanted to use my physical fitness background to secure a long-term career. I recognised that personal training was a real growth Industry and after getting qualified with my diploma in personal fitness, I applied to join MotivatePT and was successful in getting selected to work with their team of personal trainers in Manchester. For me the reward is a job that I thoroughly enjoy and a lifestyle that I love. Getting paid to do something that helps others and keeps me fit and active is a dream come true."
As demand for personal training continues to grow, MotivatePT are having to double their trainer numbers over the next 12 months in order to cater for increasing customer numbers. What once was considered to be a niche career has now become one of the fastest growing occupations in the UK with leading business analysts predicting that the Personal Training Industry will more than triple in size over the next ten years.
****
About MotivatePT:
MotivatePT are a multi award-winning personal training company that specialise in delivering personal training sessions in homes, offices and parks across the UK. They provide fitness training that is carefully tailored towards the unique needs of the client from one-to-one to group personal training sessions. The Company has appeared on BBC1 and Channel 4 and was recently voted as one of the UK's top fitness companies.