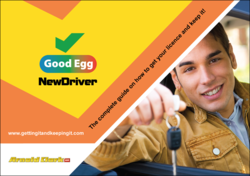 An average of seven young drivers or passengers are killed or seriously injured every day.
(PRWEB UK) 11 December 2012
Almost half of new drivers are unaware of the New Drivers Act (1995), legislation specifically designed to decrease new driver deaths by reducing the number of penalty points a new driver can pick up within the first 24 months of obtaining their licence.
Currently road collisions are the leading cause of death for 17-to-24 year olds in the UK, with an average of seven young drivers or passengers killed or seriously injured every day. Good Egg Safety aims to help reduce casualties by providing new drivers with an easy to understand resource that will help them get their licence and keep it, while staying safer on the roads.
The Good Egg Guide for New Drivers is fully endorsed by Road Safety GB and has been extensively researched and focus-grouped and developed with the support of leading researchers, transport psychologists, road safety professionals and law enforcement practitioners.
Professor Emeritus Steve Stradling, Edinburgh Napier University, a member of Good Egg Safety's National Steering Group says: "Young, novice drivers need re-calibrating: the driving task is, from time to time, more demanding than young drivers think it is, partly because they don't feel the fear and partly because young drivers are not as competent as they think they are in concentrating, observing, anticipating and manoeuvring, with the result that by underestimating task demand, and over estimating their capability to cope, they drive with reduced safety margins."
Aimed at an audience of 17-25 year olds, it gives vital safety advice with tips on passing the tests, purchasing a car, insurance and how to avoid losing their licence. It also covers crucial topics such as the importance of lessons by an Advanced Driving Instructor, driving under the influence and driving to suit weather conditions.
Dr Neale Kinnear, Principal Psychologist at TRL says: "It is widely known that newly licensed drivers are at significantly increased risk of being involved in an accident when compared with more experienced drivers. However, there are ways for new drivers to reduce their personal risk, such as by reducing their exposure to the most risky situations; this guide explains and outlines why this is important and how this can be done. New drivers, and their parents and carers, can play an important role in reducing the chance of them being involved in a crash."
An allocation of free copies of The Good Egg Guide for New Drivers will be distributed to Local Authorities across the UK.
Sir Arnold Clark, Chairman and Chief Executive of the Arnold Clark Group, says: "As a father, grandfather and great-grandfather, the number of new drivers being killed or injured on our roads is deeply worrying. This is why I had no hesitation in agreeing to associate the Arnold Clark Group with the new Good Egg Guide for New Drivers.
"Also, many of the 200,000 new and used cars that we sell every year are first cars for young drivers. We naturally want all these cars to be driven sensibly and safely right from the start, and the expert advice offered in the guide will help parents gain a better understanding of what they can do to make sure that their own young driver stays safer behind the wheel.
"I regard this new guide to be essential reading for every new driver and I cannot recommend it highly enough."
The campaign, in partnership with the Arnold Clark Group, will be supported by a major prize draw that offers young drivers the chance to win a brand new Chevrolet Spark, valued up to £9,000. The Spark is an ideal first car with a four star NCAP safety rating, six air bags, 1.1 Litre engine and five year warranty.
Visit http://www.gettingitandkeepingit.com for more information.