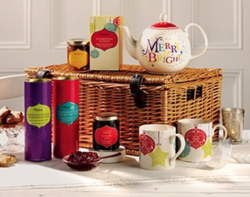 (PRWEB UK) 11 December 2012
With Christmas on its way, many companies around the country will have booked their office parties and begun the preparations for team Secret Santa. Whittard have released their guide to getting the seasonal tradition just right.
Secret Santa is a great way to exchange gifts without it costing a small fortune - and everyone gets a little something to enjoy. Normally, a team or department agrees on a gift budget, adds everyone's name to a hat, and each person then draws a name and purchases a gift – all in secret of course. Gifts are then distributed at the Christmas lunch or party.
Here are some top tips to make you the perfect Secret Santa.

Don't be too generous: Recognise that people may have different financial circumstances and agree a budget that everyone in the team can comfortably afford. Christmas is expensive enough without feeling you have to break the bank for a work colleague!
Choose something they will appreciate. Try and buy something that the person will use, as opposed to something that appeals to you – it's no good buying a coffee lover a tin of teabags, no matter how attractive the tin! Look for helpful clues, e.g. what does the person like to eat or drink, what are their hobbies/interests, what do they like to watch/read? Putting some thought into your gift really shows… and if you're stuck, food or drink is often a safe bet.
Avoid embarrassing disasters. Choose carefully, and don't forget that gifts are unwrapped in public! Don't go overboard unless you know that person very well – and know that they, and the rest of the team, will find it entertaining too. Definitely steer clear of gifts that are in poor taste, too risqué or suggest a relationship that doesn't exist. Embarrassing disasters are pretty memorable, and likely to be recounted at any future work social events…
Have fun! Secret Santa is a great way to bond, enjoy yourself, and create a good office atmosphere. It's also fun to try and guess which colleague chose your gift. Here are our favourite five Whittard Secret Santa suggestions:
1) English Breakfast Kilner Tin – a luxurious reusable tin, for those with sophisticated taste who love classic loose tea.
2) Snowman Fine China Mug – the perfect gift for the person who loves all things Christmas; if their desk is a wonderland of tinsel and ornaments, chances are this festive mug will fit right in.
3) Footsoother Tea Bags - A refreshing, calming blend of herbal teas, scented with lemongrass and peppermint to soothe and revive tired feet. A thoughtful and unusual choice for someone who loves a bit of pampering, or is keen on winter walks.
4) Mulled Wine Instant Tea – just the ticket for anyone who enjoys the flavour of this traditional festive drink, but not the headache the next day.
5) Flavoured Coffee Syrup Set – something a little different for a coffee lover, and great for a some Christmas-time indulgence.
Whittard of Chelsea sources the finest teas and coffees from around the world and with 125 years of experience, our people are specialists and proud of the products we deliver. We offer a wide range of teas, coffees, hot chocolates, instant teas, china and tea & coffee making equipment and our mission is to surprise and delight our customers with our passion for the very best tea, coffee and related gifts.