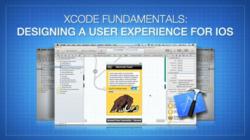 Xcode can be such a difficult environment to work with. While iPhone software is user friendly, the development process isn't. We saw a real opportunity to help people understand the fundamental process of app design and creation.
Toronto, Canada (PRWEB) December 12, 2012
The interactive training course Xcode Fundamentals has just been released on http://www.udemy.com. The course consists of a series of 155 video lectures organized into 11 course sections, each typically just a few minutes long and full of dynamic graphical content. With more than 1,000 copies sold already, the course is now available at holiday promotional pricing for the balance of December at $99, reduced from the regular $497. 
Says CEO John Bura "Xcode can be such a difficult environment to work with. While iPhone software is user friendly, the development process isn't. We saw a real opportunity to help people understand the fundamental process of app design and creation. The goal of all of our courses is to take somebody from knowing nothing and have them leave with skills they didn't even know they were capable of. In our HTML 5 games course a few students entered not knowing a thing about game design and they now have games on the Chrome store. That is an awesome feeling."
 
Xcode is the flagship development environment used to make apps for the iPhone, iPad, iPad Mini, and OS X computers. The course shows students how to design mobile applications and equally importantly, it teaches them about designing a mobile experience. User experience and creative positions are among the toughest to fill in 2012, according to http://www.inc.com's list of 5 toughest jobs to fill in 2012. Attention to user experience is a critical step after all of the developers are finished coding. Oftentimes user experience is overlooked but it is vital to making an app a hit. 
 
Added Bura, "We wanted to make a course on designing apps and user experience because most courses only focus on the technical aspects of development. What most people don't realize is that there is a massive design and user interaction component that is just as important as the technical side of development."
 
In Xcode Fundamentals, students learn how to design apps right in Xcode. This is unique because most design courses use other programs instead of Xcode to teach design. "You can really design your app right in Xcode and prototype it there" says Bura.
 
Another key aspect of the course is how to get your idea from concept to completion. There are lectures on how to rapid prototype for iOS (iPhone and iPad) devices, an absolutely vital skill for designers and developers in today's swiftly moving marketplace. 
 
The Xcode Fundamentals course is hosted on Udemy.com which received $3M in startup funds, and has grown 20 percent every month. Recently, Udemy garnered another $12M in funding to expand it's operation. "Udemy is probably one of the best things to happen to education. I love its platform and working with them has been a wonderful experience." remarked Bura. Udemy also has just upgraded their service to include a gifting feature. This product can be gifted to a friend or family member. To learn more about Xcode Fundamentals, just link to http://www.udemy.com/xcode-fundamentals-designing-a-user-experience-for-ios/?couponCode=99
 
About Mammoth Interactive 
Mammoth Interactive specializes in the development of XBOX 360, iPhone and iPad games, which are usually promoted or sponsored by partners such as Nickelodeon and udemy.com. Mammoth Interactive also produces educational software such as Code Habit - software designed to help inexperienced developers become successful programmers. Mammoth's CEO, John Bura, has been teaching since age 17, and the combination of over 10 years' teaching experience plus real world success in game development makes the information in Mammoth's courses truly unique. They deliver relevant and up-to-date information, value-priced and easily understood even by novice developers. Mammoth's courses have been featured on such websites as venture beat, UX magazine, expert dojo, cult of mac, macgasm and many more. To learn more about Mammoth Interactive visit their website http://www.mammothinteractive.net