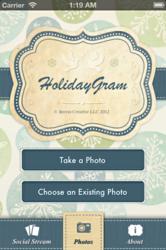 Create and share holiday-themed photos with HolidayGram for iPhone and iPod Touch.
Cleveland, OH (PRWEB) December 11, 2012
Just in time for the holiday season, Recess Creative, a Cleveland based digital advertising and marketing agency, has launched HolidayGram™ a new social photo sharing app for iPhone and iPod touch.
"HolidayGram is the first app that's focused on creating custom holiday cards that you can share via facebook, twitter, email or by paper postcard," said Chris Jungjohann, Managing Partner and COO of Recess Creative.
The application allows user to take or choose photos from their iOS device, add elements of holiday cheer, apply borders, photo filters and even add a custom message. Then, the photos can be shared over social media channels or even sent via U.S. Mail.
"Users are changing the way they connect and share online," said Tim Zeller, Managing Partner and CCO of Recess Creative. "Every day, people are posting holiday messages and notes on social media sites. And we thought why not create something cool that can add to their overall message?"
HolidayGram also houses a Social Stream – a virtual catalog of all of the public HolidayGrams created through the application. Users have the option to share their holiday creations publicly on the Social Stream or they can keep them private on their device.
"And the best part is the app will expand to other holidays," Jungjohann said. "It's the app that keeps on giving year-round. We've already started an update for Valentine's Day."
HolidayGram costs $.99 and is now available at the App Store.
For more information, please visit http://www.holidaygramapp.com or call Recess Creative at 216-400-7187.
About Recess Creative
Based in Cleveland, Ohio, Recess Creative is a full-service communications firm specializing in creative solutions for companies competing in the digital space. Founded in 2009 by fellow Cleveland Institute of Art graduates and interactive marketing experts Chris Jungjohann and Tim Zeller, Recess adheres to an unwavering goal: giving clients innovative solutions and unexpected results. Based in Cleveland, Ohio, Recess Creative serves a roster of blue-chip companies nationwide including KeyBank, MOVband, Iron Chef Marc Forgione, Gatorade, the Greater Cleveland Partnership and other regional and national industry leaders. http://www.recesscreative.com