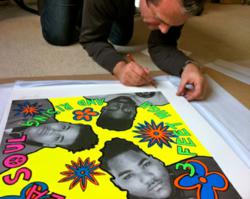 Is this the Ultimate Christmas Gift for the Music Fan? De La Soul's '3 Feet High and Rising' now available as a fabulous limited edition print.
London, UK (PRWEB UK) 13 December 2012
Punk artist Toby Mott's design for 80's HipHop giants De La Soul was a ground-breaking work which has been recreated as a stunning limited edition art print. Using state-of-the-art giclee printing with overlaid hand pulled silkscreen fluorescent colours, the result is a faithful homage to Toby's original concept. In an edition of only 60, Hypergallery are offering the print at a special pre-launch price of £360.
Hypergallery create and publish high quality, striking and valuable art print editions of classic album covers. Each edition is personally signed by the artist and/or the musicians. The edition sizes vary from 25 up to 500, and obviously the smaller the edition run is, the faster it sells out. Printed at larger than life size, these works make an impressive statement in your home or office and are a fantastic investment.
"Album covers seem to have punctuated our lives in so many ways. They remind us of where we were, what we were doing, who we were with. They mark our student days, our holidays, our growing up, and our coming of age." - Richard Evans, author of 'The Art of the Album Cover'.
"I've always loved artwork and album art. I think it's been a huge part of what people identify and feel about the music and the records." - Peter Gabriel
Hypergallery has built up an impressive portfolio of artists from creators of the early jazz covers of the 1940s through the innovators of the heyday of vinyl in the 1960s and 1970s to the contemporary designers of today. They include the English pop artist Peter Blake, whose design for the cover of The Beatles' Sgt. Pepper's Lonely Hearts Club Band came in at number 16 in a survey conducted in 1999 by the UK Sunday Times of the Top Fifty Millennium Masterworks. It was between Chartres Cathedral at 15 and War and Peace at 17 – proof, if ever it were needed, that the album cover as an art form had finally come of age.
Andy Wood CEO of Hypergallery agrees: "Albums are so evocative of particular moments in our lives and the art on the covers of so many of them is quite wonderful! Our ethos at Hypergallery is to put this art in a different context, to make it so much bigger, to let you frame it and hang it on your wall."
These album cover limited edition prints can cost anything from £150 to £10,000, depending on how well known the artist is and how rare the print has become.
Other classic covers published by Hypergallery include those from Pink Floyd, The Beatles, Led Zeppelin, Oasis, Peter Gabriel, Elton John,The Rolling Stones and many more.
For images and further press information please contact Emily Smeaton, Curator - Hypergallery: enquiries(at)hypergallery(dot)com
Tel: +44 1491 637021