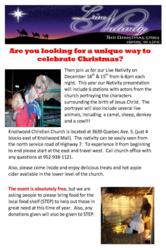 "For whoever exalts himself will be humbled, and whoever humbles himself will be exalted." – (Matthew 23:12)
St. Louis Park, MN (PRWEB) December 12, 2012
This year's Nativity presentation will include 6 stations with actors from the church portraying the characters surrounding the birth of Jesus Christ. The portrayal will also include several live animals, including a camel, sheep, donkey and a cow.
Knollwood Christian Church is located at 3639 Quebec Ave. S. (just 4 blocks east of Knollwood Mall). The nativity can be easily seen from the north service road of Highway 7. To experience it from beginning to end please start at the east and travel west. Call church office with any questions at 952-938-1121.
This event is open to the public. Tasty treats and hot apple cider available in the lower level of the church.
The event is absolutely free, but for those who are able please bring food for the local food shelf (STEP) to help out those in great need at this time of year.