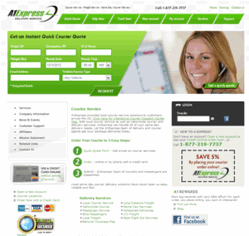 Atlanta, GA (PRWEB) December 11, 2012
A-1 Express, a leading courier of transportation and same-day delivery services, announces utilization of social network Facebook. The same-day courier is focusing on social media in their efforts to increase sales, courier exposure and marketing to its' clients. Their goal is to effectively and professionally market themselves as a relevant courier within today's social business trends.
A-1 Express has an extensive facebook page, building their community of customers, visitors and even friends for their same-day delivery services. The page is comprehensive, having listed all A-1 Express weekly articles and blogs to provide current news about the courier industry. The latest news is listed at the top of the page in descending order. For appeal, the articles have photos describing the article, the article beginning, and the title link to read more. Any visitor can spend time on their facebook page, read and "like it".
A-1 Express has a page for photos of employees and more. They also have a map and basic information available for any visitor desiring to know more about A-1 Express. Customers can know where the company is geographically-based and find listed the services they provide. Other courier companies seeking to partner with A-1 Express can utilize facebook to contact the company.
The company has recently reached a milestone of "100 likes" on their page. A-1 Express has hired its' very own E-Marketing Director to progress in their social media marketing efforts. The company is striving to achieve solid results and growth via social media, including Twitter as well.
A-1 Express is a recognized leader of same-day delivery and distribution services throughout the US. The courier utilizes the latest in courier technology and transportation expertise to deliver optimal local and national courier logistic solutions. From their headquarters in Atlanta, Georgia, A-1 Express has a growing list of over 1,500 clients, including Fortune 500 companies.