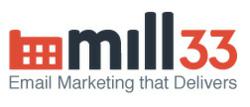 Manchester, NH (PRWEB) December 12, 2012
Mill33, Inc., the email marketing company dedicated to serving the needs of high volume email campaign senders, today announced the appointment of Bryan Marble as Technology Director. Marble, who joins Mill33 at a time of exciting growth for the company, brings a deep understanding of customer-centric product development to support Mill33's mission.
With broad experience in technology development roles, Marble has a proven track record of advancing technology companies in burgeoning online marketing sectors. Using this experience, Marble will help Mill33 develop the tools that help marketers face the unique challenges of high volume email marketing campaigns.
Before joining Mill33, Marble was the founder of GroupTrip, a web-app that allows friends to collaborate in planning their vacations. Prior, Marble was a developer at HubSpot, a marketing software company, where he was responsible for building the HubSpot content management system which hosts 4500+ customers' web sites.
"I'm excited to take our technology in email campaign deliverability and pair it with exceptional customer experience," said Marble. "With a brand new Rails codebase, completely reengineered to tackle the needs of our high-volume senders, the sky is the limit and I'm elated to have a hand in directing that ship."
"High volume email marketing campaigns reaching the inbox is critical for today's marketers," said Richard Turcott, chief executive officer, Mill33. "Bryan's technology development experience focussed on customer centric design is essential for our growth, and we are pleased to welcome him on board."
Marble earned a bachelor of science from Rensselaer Polytechnic Institute in Troy, NY., and a MSCS from the University of Massachusetts in Lowell, MA.
About Mill33
Mill33, Inc. provides easy-to-use email marketing services for high volume email campaign senders. Mill33 helps marketers create, deliver and manage email campaigns with a simple cloud based user interface or API. Mill33 is headquartered in Manchester, NH. For more information or a free, no obligation trial visit us at: http://www.mill33.com