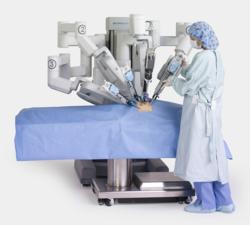 Warren, Ohio (PRWEB) December 11, 2012
St. Joseph Health Center, in cooperation with Intuitive Surgical, will offer shoppers the opportunity to "operate" using the da Vinci surgical robot during a special event Saturday, Dec. 15, at Eastwood Mall.
The da Vinci surgical system, which makes minimally invasive robot-assisted surgery possible, will be on display in the center court of Eastwood Mall from 10:30 a.m. to 5 p.m. Representatives from Intuitive Surgical and physicians from St. Joseph Health Center who use the robot to perform minimally invasive procedures in place of more traditional open surgeries will be available to answer questions and guide those interested through a hands-on experience using the robot.
Shoppers will be able to explore robot-assisted surgery from the surgeon's perspective – sitting at the surgeon's console, viewing the surgical field from a superior 3-D vantage point, and using the robot to control surgical instruments.
Robot-assisted surgery is the world's most advanced surgical treatment option for a wide range of conditions and became available at St. Joseph Health Center earlier this year. Humility of Mary Health Partners is the only health care provider in nine contiguous counties (Mahoning, Trumbull, Columbiana, Ashtabula, Geauga and Portage counties in Ohio, and Mercer, Lawrence and Beaver counties in Pennsylvania) to offer the world's most advanced, minimally invasive robot-assisted surgery.
About Humility of Mary Health Partners:
Humility of Mary Health Partners is an integrated health system located in the Youngstown/Warren area. It is a region of Catholic Health Partners (CHP) in Cincinnati, the largest health system in Ohio and one of the largest Catholic health systems in the United States. HMHP provides a full spectrum of health care services, including inpatient, outpatient, emergency, urgent care, home care and long-term care. Members are St. Elizabeth Health Center, St. Joseph Health Center, St. Elizabeth Boardman Health Center, HM Home Health Services, The Assumption Village, Humility House, Hospice of the Valley and Laurel Lake. Learn more about HMHP online at http://www.HMpartners.org