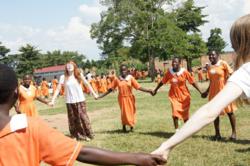 "The award nomination is well deserved. I wish the students the very best of luck for the awards ceremony. They are an asset to Barnfield and we are very proud of their achievements, whatever the outcome."
Luton (PRWEB UK) 10 December 2012
Uganda six nominated for YOPEY.
Six Barnfield Sixth Form students who led a special project to ship an ambulance and aid out to Uganda have been shortlisted in the Young People of the Year Awards 2012 (YOPEY).
Amy Howe, Jade Colbert, Lauren Hill, Angelika Gasiorkiewicz, Rebecca Piggot and Lauren Cole, who study A-Levels at Barnfield South and West Academies, spent months fundraising for the ambulance to be transported to Africa's most vulnerable people.
And in June they flew to Uganda to deliver the emergency vehicle in person – in partnership with the Onset Trust and Harris Girls Academy in Dulwich – to a village called Budaka, where villagers are poverty stricken and in dire need of healthcare.
While in Uganda students assisted the paramedics to deliver first aid training through theatre style performances. They also went to different villages to explain what an ambulance is and what it means for the local people. Students conducted a number of home visits where they distributed gifts that had been collected by students and staff at Barnfield South and shipped from England. This included mosquito nets, washing power, soap, salt and clothing etc.
While in Uganda, the students met with a small child called Anna Fridah who was suffering with water on the brain. The condition was getting worse and the little girl was in desperate need of an operation to save her life. But her parents didn't have the money to pay the £250 it would cost to have the life-saving surgery. The Barnfield students decided to put their spending money together to pay for the operation which took place on 16th July. Little Anna was the first person to go into the ambulance that the students shipped over.
The students also spent time visiting local schools, playing with and showing the children how to use the sports equipment that they had fundraised to buy. This project was an emotional and physical rollercoaster for the students and they learned so much about themselves.
The girls were nominated for the YOPEY award by Barnfield South Community Cohesion Co-ordinator Marielle Jewels.
YOPEY celebrates young people who are positive role models, not necessarily because they are brilliant academically or great at sports, but because they give to others.
Barnfield Chief Executive Sir Pete Birkett said: "I am delighted that our students have been recognised for their hugely worthwhile work in Uganda. Both the staff and students who made the trip gained so much from the experience and really made a difference to the lives of others.
"The award nomination is well deserved. I wish the students the very best of luck for the awards ceremony. They are an asset to Barnfield and we are very proud of their achievements, whatever the outcome."
The YOPEY awards will be held on the 16th December 2012.