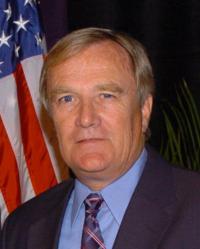 For more than 35 years, Ron [Cornelison] has consistently defined the bar by which others are measured in the corporate world.
Reston, VA (PRWEB) December 11, 2012
Highly regarded technology executive Ronald Cornelison has joined AIS Network's advisory board, bringing more than 35 years of entrepreneurial and government contracting experience to the hosting pioneer's team. Most recently, Cornelison served for a decade as the Chairman/CEO, and later chairman emeritus, of the Herndon-based AMCAD, a leading provider of technology and software application solutions to state and local government agencies.
AISN is a leader in managed hosting for mission-critical applications for public and private sector organizations with demanding security and compliance requirements. Cornelison's expertise in enterprise information technology and government contracting will round out AISN's team of entrepreneurs and corporate technology leaders and help guide strategy as the company's government cloud computing business continues to expand.
"For more than 35 years, Ron has consistently defined the bar by which others are measured in the corporate world," said AISN CEO Jay Atkinson.
"He embodies innovative thinking and visionary leadership, and he shares our passion for the growth of cloud computing technologies. We're thrilled to have his insight and wisdom as we continue advancing our work in hosting data and applications for federal, state and local customers as well as for enterprise customers in the private sector."
As an entrepreneur and chief executive with special expertise in government contracting, Cornelison has built multiple companies in the defense, technology and financial services sectors and has led them on a consistent path of unprecedented growth and industry leadership.
During Cornelison's tenure at AMCAD, the company received the Fast 50 and Fast 500 awards from Deloitte, earning the title as one of the fastest growing technology firms in Virginia and North America, respectively. AMCAD was also a SmartCEO 100 Best-Run Company for 2012, continuing the growth pattern Cornelison started. Additionally, Cornelison was a finalist in Ernst & Young's Entrepreneur of the Year award. AMCAD is an enterprise software developer that provides solutions and services to the public sector, specifically an automated justice and records management ecosystem that includes courts, jails, prosecutors, probation, parole, land recordation and vital statistics systems for county clerks and recorders offices.
Other companies founded and led by Cornelison include East3, a Web-enabled technology company focused on health and training solutions; FastShip Atlantic, a privately held transportation and logistics firm; Thornycroft, Giles and Co., an international transportation technology firm; Integrated Systems Analysts, a defense industry systems integration and engineering firm and listed as No. 20 on the Inc. 500 list; the George Washington Banking Corp., now a part of BB&T Bank of Virginia; and Sentry Investment, which owned and operated a mortgage company and a settlement and title company.
Cornelison's career began with a decade of distinguished service in the United States Navy, including several tours in Vietnam. He has been an active leader within industry, civic and political organizations as well as a frequent speaker. He holds degrees from the U.S. Naval Academy, the University of Southern California and National University.
With network operations centers in the Chicago and Washington, DC metropolitan areas, AISN is recognized as a pioneer in managed hosting technologies. The company will celebrate its 20th anniversary next year.
About AIS Network
AIS Network takes businesses to the cloud. Hosting pioneer AISN is a leader in managed hosting for mission-critical applications for organizations with demanding security and compliance requirements. Whether you're using our private cloud, public cloud, hybrid cloud, or good old-fashioned dedicated hosting, we take the worry out of your IT. Our world-class, disaster-resistant facilities and commitment to quality service ensure that our customers aren't just satisfied – they love us. Fully managed hosting of applications and online businesses is what we've done best since 1993. Unlike many cloud hosting companies, AISN, a SSAE 16 Type II-compliant organization, personalizes client service at every level, inspiring full confidence that mission-critical data, applications and email are in reliable hands. Visit http://www.aisn.net.
# # #
The names of actual products and companies mentioned herein may be the trademarks of their respective registered owners.