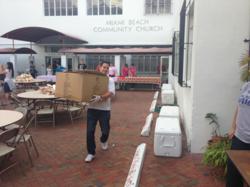 It's not how much we give but how much love we put into giving.
Miami Beach, FL (PRWEB) December 10, 2012
Jose Mata, The Jumbo King, went onto the streets of Miami Beach in front of the Miami Beach Community Church and teamed up with H.O.P.E. to feed the homeless.
*H.O.P.E. hosts six events a year. Check back online for future events with H.O.P.E.
In the meanwhile, join us by registering on the H.O.P.E. website or by contacting Aliasghar "Ali" Taqi at (305) 979-9329.
Like us on Facebook
Follow us on Twitter
*H.O.P.E. in Miami Beach is a non-profit faith based organization with a vision to reduce the number of homeless people in Miami Beach by providing for self-sufficiency and improving the quality of life in our community by providing housing, psychological treatment, emotional therapy, medical treatment, substance abuse programs, job training and job placement, financial administration, spiritual support and hope, we will reduce homelessness. As you know this social problem needs the support of everyone who is willing to make a difference.