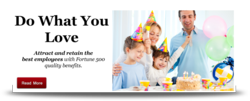 Duluth, Georgia (PRWEB) December 12, 2012
HR Strategies was recently pleased to announce that they will continue to partner with Eflex and Reliance to offer their Flexible Spending Accounts and Voluntary Benefits for the 2013 plan year. During the open enrollment period employees were able to elect to enroll in the following benefits:
EFLEX

Health Expense Reimbursement
Dependent Care Reimbursement
Individual Health Policy Reimbursement
Limited FSA for Health Savings Account participants
Reliance Standard
Voluntary Life
Short Term Disability
•Long Term Disability

Accident Insurance
Critical Illness Insurance
HR Strategies notified eligible internal staff and client worksite employees of the open enrollment period of November 16th through December 9th, via email and other notification methods. They were also able to notify employees at this time of the changes to FSA's, due to the Health Reform. Health Care Reform dictated the Health FSA limit must not exceed $2,500.00, effective 01/01/2013. However, if an employee and their spouse both have a Health FSA, they both may contribute up to the maximum amount. Additionally, HR Strategies Benefits department took this opportunity to remind employees that a Flexible Spending Account can help them save hundreds of tax dollars each year; with an FSA they end up with a tax deduction for their out-of-pocket medical and/or dependent care expenses.
About HR Strategies
HR Strategies provides the customizable HR solutions (including but not limited to payroll, benefits, workers compensation, tax administration, regulatory compliance, HR consulting, training solutions) and expertise of a large corporation's personnel department in an affordable and effective solution. HR Strategies enables clients to reclaim time, stabilize and reduce labor costs, and stay compliant with government regulations.