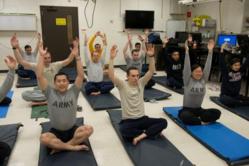 Bethesda, MD (PRWEB) December 10, 2012
Samueli Institute and the Uniformed Services University of Health Sciences (USU) teamed up last week to train fourth year medical students on an integrative approach to health and wellness. As part of a two-day workshop on December 6 and 7, more than 170 military medical students participated in educational sessions on acupuncture, human performance optimization—sleep, physical fitness and nutrition—and mind-body-medicine trainings including yoga, guided imagery, meditation and hypnosis. The workshops were based on recent research findings that indicate these treatments are effective and economical ways to treat and provide self-care for returning warfighters.
"Throughout our 237-year history, military medicine has been interested in providing the most effective means of keeping our warriors healthy and restoring them to function, if they are injured, ill or combat wounded. These modalities all have a degree of proven utility in maintaining and restoring health--our physicians, nurses and others need to be aware of their potential to help," said Lieutenant General (retired) Eric Schoomaker, MD, PhD, who is the immediate past U.S. Army Surgeon General and currently serves as a scholar-in-residence at USU and coordinates his work with Samueli Institute.
Though our military medical system is the best in the world at treating traumatic injuries on the battlefield, there is much work to be done in treating the invisible wounds of war on the home front. Veterans are suffering from Post-Traumatic Stress Disorder (PTSD), Traumatic Brain Injury (TBI), suicide, substance abuse and family problems.
The urgent need has led the military to expand its services and use research-based integrative practices to help thousands of returning warfighters. Samueli Institute is collaborating with USU in Bethesda, Md., to train the next generation of military doctors and other health care providers in complementary and integrative techniques to help maintain the readiness of the force and to combat the side effects of drug-centered approaches to stress and pain management.
"These practices are also restorative and important for self-care of the physicians and other health care providers themselves. If we want a health care system to provide more health and not just more medical treatment, we need to give our doctors and nurses skills in lifestyle and health promotion," said Wayne B. Jonas, MD, President and CEO of Samueli Institute.
Two examples of current studies reflecting the positive impact integrative medicine can have in providing healing-oriented and drug-free approaches to care are the use of acupuncture for pain relief without medication and the use of healing touch in treatment of PTSD:
Battlefield Acupuncture:
The U.S. Air Force and Samueli Institute developed the first-known training program to teach military physicians a simple acupuncture procedure to deliver pain relief without medication. The success of this program led to an expansion to include integrating acupuncture into aeromedical evacuations from Ramstein Air Base in Germany to Andrews Air Force Base.
PTSD & Healing Touch:
Recently, Samueli Institute collaborated with Scripps Center for Integrative Medicine on a randomized controlled trial of returning combat-exposed Marines at Camp Pendleton, Calif. The study found that combat Marines receiving Healing Touch combined with guided imagery treatments showed a significant reduction in PTSD than their peers who received treatment as usual alone.
###
About Samueli Institute:
Samueli Institute is a non-profit research organization supporting the scientific investigation of healing processes and their role in medicine and health care. Founded in 2001, the Institute is advancing the science of healing worldwide. Samueli Institute's research domains include integrative medicine, optimal healing environments, the role of the mind in healing, behavioral medicine, health care policy, and military and veterans' health care. Our mission is to create a flourishing society through the scientific exploration of wellness and whole-person healing. More information can be found at SamueliInstitute.org.
About USU:
The Uniformed Services University of the Health Sciences (USU) is the nation's federal health sciences university. USU students are primarily active duty uniformed officers in the Army, Navy, Air Force and Public Health Service who have received specialized education in tropical and infectious diseases, preventive medicine, TBI and PTSD, disaster response and humanitarian assistance, and acute trauma care. A large percentage of the university's nearly 5,000 physician and 600 advanced practice nursing alumni are supporting operations around the world, offering their leadership and expertise. The University also has graduate programs in biomedical sciences, public health and oral biology, committed to excellence in research, which have awarded more than 400 doctoral and 900 masters degrees to date. For more information about USU and its programs, visit http://www.usuhs.mil.