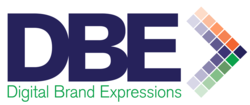 Plainsboro, NJ (PRWEB) December 12, 2012
Digital Brand Expressions (DBE) is announcing a retirement and a birth to coincide with the start of its 12th year. Today Veronica Fielding, DBE's president and CEO, announced that the company's original logo is retiring to make way for its new one.
"We've been quietly blazing trails for our clients with our strategic approach to context marketing, cost-effectively connecting buyers and brands for the last 11 years," said Ms. Fielding. "In many cases, we've been our clients' best-kept secret for success. While that has helped them outmaneuver their competitors and build their brands, our reserved approach hasn't really given the world an opportunity to see what we're all about. Today, that changes with the retirement of the DBE logo that served us well, and the birth of a bolder logo and a renewed brand message that is more aligned with how our team of experts' experts is delivering success. While we won't be boastful about the growth we're driving for our clients and the best practices we're setting for the SEO, PPC, and social media channels, we're not going to be bashful either. Expect to hear much more from--and about--DBE in 2013."
This year alone the agency has added these new clients: Serta Mattress, Associated Press, Journal Register Company, America's Farmstand, the Parmigiano-Reggiano Cheese Consortium and Boehringer-Ingelheim.
DBE clients leverage the agency's expertise for conditional content and context marketing services. These services typically include SEO-cial, PPC, the content development that supports them, the engagement that drives them, and the deep integration with the rest of the marketing mix that makes them high ROI components which quantifiably elevate a brand's success.