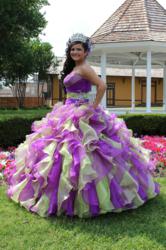 Dallas, TX (PRWEB) December 14, 2012
Mendez Video & Photography, a full-service professional video and photography business, is pleased to announce that they are now offering a 10% discount on all of their combined photo and video packages. Mendez Video & Photography offers affordable professional quality photos and video packages for any special occasion. They are committed to creating new promotions and discounts to give the best possible value to their customers.
Mendez Video & Photography has become increasingly popular in the Dallas area for their creative Quinceañera photography and video. A Quinceañera package includes a complete magazine style photo shoot on location, beautiful portraiture and professional HD video at the event.
Owner, Manuel Mendez says that his style is classical and journalistic. He captures the special moments without being intrusive and combines his video and photo packages to provide a complete photo and video solution for their his clients.
"We understand how important a Quinceañera is in the life of a woman and what it symbolizes to the family," said Manuel Mendez, owner of Mendez Video & Photography. "Our goal is to record the fantasy and the celebration from beginning to end, capturing those memories that last for a lifetime."
In addition to Quinceañeras, Mendez Video & Photography provides creative services for weddings, engagements, and corporate and social occasions. They also offer portrait services such as headshots and business portrait photography, children's portraiture, family photography and boudoir photography. For complete information about all Mendez Video & Photography services, visit their website at http://www.mendezvideophotography.com/ or call (469) 207-1991 for pricing and a free consultation.
About the company:
Mendez Video & Photography Services creates long lasting memories for Weddings. They do Custom HD Video Photography for affordable wedding photography, Quinceanera, engagement, graduation and Anniversaries or any occasion including Children's Portraiture, Corporate Image, Corporate Portrait, and also offer Event Photography Services for Parties and Corporate Events, and we can also give away a portrait of themselves of each guest. For more information, please visit their website at http://www.mendezvideophotography.com/.