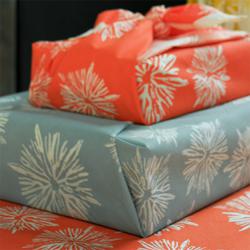 Why not try a resolution that saves money, is simple to achieve, and helps the planet in the process—a resolution to reuse?
CHICAGO, IL (PRWEB) December 14, 2012
Exercise more. Eat healthier. Lose weight. Try a new look. When it comes to New Year's Resolutions, been there done it and probably do not want to do it again. Reuseit.com® has hundreds of solutions to help reduce the "waste"-line with reusable alternatives for disposable bags, bottles, coffee cups, paper towels, gift wrap and so much more. Try a resolution that saves money, is simple, and helps the planet in the process—a resolution to reuse.
Make a waste-reducing resolution a reality by rethinking how and what is used this year. Here are few ideas that can make a big difference now and in the future:
Switch to a reusable items.
According to the Clean Air Council Americans use approximately 1 billion shopping bags, creating 300,000 tons of landfill waste each year. The Flip & Tumble Shopping Bag is an affordable alternative to wasteful plastic bags, and is fun to tote in adorable shades like eggplant, super pink and deep aqua.
Americans generated 31 million tons of plastics in 2010, about 12 percent of the waste stream according to the EPA. Put plastic in its place by BYOB (bring your own bottle), bag plastic baggies, mix sports drinks and cut out plastic cutlery. Start with Lifefactory's 22 oz. glass water bottles cushioned with a colorful silicone sleeve, LunchSkins Sandwich Bags in playful patterns, Nuun U Hydration Tablets, delicious flavored tabs and To-Go Ware Bamboo Utensils & Case.
Pack a waste-free lunch.
The EPA estimates that the average child's lunch creates 67 pounds of garbage every school year. Give the kiddos (and big kids, too) a lesson in waste reduction with Black + Blum's, Box Appétit L unch Box, complete with a removable nesting container making it easy to split different foods—even pack hot and cold foods together.
Ditch the paper
Start with Skoy Paper Towel Replacements in basic white or an array of cheerful hues. This simple switch will help to eliminate part of the 3,000 plus tons of paper towels Taiga Company estimates are thrown away, and ultimately ending up in landfills each day.
Americans spend billions a year on gift wrap, most of which ends up in the trash—creating millions of tons of waste. Sustainably wrapped presents make for a better future. Rethink gift wrap with Lyziwraps Reusable Gift Wrap in shades and sizes that make any occasion a little brighter. Another wrap to replace is plastic wrap and aluminum foil, too. To eliminate a little of this waste from the world, try BPA and phthalate-free Press Lid Reusable Vacuum Seal Lids.
Also consider nixing disposable dryer sheets replacing them with Purecosheet static eliminator reusable dryer to help eliminate unnecessary waste this year.
About Reuseit.com:
Reuseit.com is a place where you will find the "best of the best" reusables available in many categories so you can eliminate disposables from every part of your life—from bags and bottles to lunch, household items and beyond. By casting a critical eye and delivering facts and solutions, we continue to help guide consumers to the truth and take action on these issues as they evolve.
Contact:
Lakisha Chambers
540-948-7385
lchambers (at) plowandhearth (dot) com