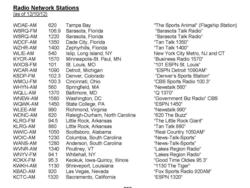 Tampa, Fla. (PRWEB) December 10, 2012
A premier college football all-star game for decades makes a return visit to St. Petersburg, Fla. at Tropicana Field in 2013 with radio coverage expanding to more than thirty markets nationwide.
The 2013 East-West Shrine Game will be played Saturday January 19, 2013 at 4 p.m. EST benefiting the twenty-two Shriners Hospitals for Children health care facilities in the United States, Canada and Mexico. For the past 87 years, the East-West Shrine Game has proven to be the launching pad for numerous NFL players. Tom Brady, John Elway, Eddie George, Greg Jennings, Brett Favre and numerous other future stars all showcased their talents in this game. Sixty-nine former East-West Shrine Game players are in the NFL Hall of Fame.
Play-by-play radio voice Patrick Kinas will again be joined by analyst Brian Jordan in the booth with Rick Berkey reporting in from the sidelines. Patrick has been frequently featured in the college football TV-Radio booth for East Carolina University, North Carolina State University, MASN, CBS College Sports and ESPN3 and is radio voice of the Durham Bulls AAA affiliate of the Tampa Bay Rays. Jordan, a Shrine Game veteran himself, enjoyed success in both the NFL and Major League Baseball in Atlanta where he now serves as a Braves Pre-game TV analyst and is active in the community through the Brian Jordan Foundation. Rick Berkey is a veteran Michigan broadcaster with experience on the Michigan State Spartan Network and with Davenport University.
The East-West Shrine Game Radio Network produced for the second year in a row by St. Petersburg based Play-by-Play Sports Properties LLC. Clear Channel's popular "Sports Animal" 620 WDAE will serve as Tampa Bay's "Flagship station." The game can also be heard on a special East-West Shrine Game Radio Channel available on over five hundred million smartphones worldwide from the "TuneIn" app and will also be streamed online at http://www.shrinegame.com.
Radio Affiliate Information:
Joe Bourdow is Executive Producer of the East-West Shrine Game Radio Network. Radio stations wishing to join the network should contact Bourdow directly at (800) 677-9807 or by emailing joebourdow(at)gmail(dot)com.
The broadcast game feed will begin at 3:15 p.m. EST January 19th and is available to stations free of charge (includes 15 minutes of optional local avails) via Cumulus XDS satellite platform on AMC-8, Clear Channel's "Starguide" delivery platform and via Dial Global AMC-8 Transponder 5 MAX receiver.
Radio Network Stations - see attached image
(as of 12/10/12)
###
About Shriners Hospitals for Children
Shriners Hospitals for Children is changing lives every day through innovative pediatric specialty care, world-class research and outstanding medical education. The 22 facilities in the United States, Canada and Mexico provide advanced care for children with orthopaedic conditions, burns, spinal cord injuries, and cleft lip and palate.
Shriners Hospitals for Children is a 501(c)(3) nonprofit organization and relies on the generosity of donors. All donations are tax deductible to the fullest extent permitted by law. To learn more about Shriners Hospitals for Children, please visit http://www.shrinershospitalsforchildren.org.
About TuneIn
TuneIn lets people listen to the world's music, sports, talk and news from wherever they are, with over 70,000 AM, FM, HD and Internet radio stations and more than two million on-demand programs streaming from every continent. The company's mobile apps are ranked in the top five in the App Store's music category across 82 countries and territories. The company has raised venture funding from General Catalyst Partners, Sequoia Capital, Google Ventures and Jafco Ventures and is headquartered in Palo Alto, California.
About Play-by-Play Sports Properties LLC St. Petersburg based Play-by-Play Sports Properties LLC was founded in 2009 by retired Valpak President and longtime national franchise executive Joe Bourdow and veteran North Carolina broadcaster Patrick Kinas. The emerging company is active in minor league and spring training baseball, college sports, general sports marketing and innovative forms of digital distribution. More information is available at http://www.playbyplaysportsproperties.com.