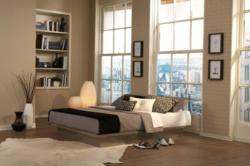 "Rooms are albums that provoke memories. What you decorate with should remind you of a street you wandered down or an experience that made you happy."
—Designer Amy Hase
Jasper, GA (PRWEB) December 12, 2012
Bedroom decor sometimes lacks the luster that would make it a more expressive and comfy slumber haven. After all, isn't it a worthy goal to have the place where one third of your life is spent, be a place that artfully invites serenity, reconnection, regeneration and bliss? With a little understanding of bedroom basics and attention to detail, the bedroom can be reinvented without breaking the bank.
PILLOWS THAT POP - Invest in a pile of pillows for the bed, and feel free to mix patterns. Combine large prints with small ones, and florals with geometrics. Restating color themes will promote consistency and continuity instead of busyness. If this concept seems unclear, just find an experienced quilter, they will explain it. This is a great way to add playfulness, texture and color to brighten up your sleeping space.
CHOOSE A FOCAL POINT - Good feng shui insists on having something that catches the eye when first entering a bedroom. It also should be something that is special to you personally. A tall art piece, a lovely chair angled in the corner or something dramatic above the head of the bed will a focal point of interest and personal expression.
BIG BLANK WALLS - Hanging a graphic quilt is an easy solution to a "big blank wall" challenge. If there is not a headboard present, placing a quilt at the head of the bed also tricks the eye into seeing it as a headboard. Complementary bed linens or a throw will pull the decor together adding a sense of sophistication.
BOLD PRINTS CREATE INTEREST - A duvet, bedspread or throw with a bold print can add interest, accent color and a pleasing sense of flow to a blah sleeping space. The right pattern and color selections to compliment the wall color can lift a bedroom from "ho hum to a HAZZAH".
EYE-CATCHING ACCENT PIECES – Waking up and seeing beautiful things is uplifting to the soul and spirit. Put your favorite items on display in the bedroom; items that you connect with emotionally as well as visually. Accents that bring up happy memories or symbolically remind you of something positive in your life.
…. Also add a personal touch by covering a modern shaped lampshade with a bold new print fabric. Look for unique characteristics of the lamp base to help choose a fabric pattern that will turn the lamp into a personal piece of art. (Just Google "covering lampshade with fabric" to find "how to" sites that will assist in the project)
So go on!!! Give that bedroom the renovation it needs to elevate it from a BED room to a lovely haven for relaxation, dreaming, regeneration and detours of imagination. Albert Einstein once stated: "Imagination is more important than knowledge. For while knowledge defines all we currently know and understand, imagination points to all we might yet discover and create." Make your sleep haven a trusted retreat that nurtures your body, mind and spirit. It's a relationship that is destined to benefit you and those you love for a lifetime.