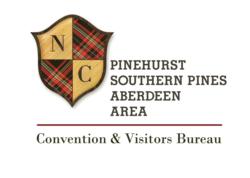 An estimated 16 million Americans will book travel via mobile devices in 2012.
Southern Pines, NC (PRWEB) December 13, 2012
The state-of-the art new website for Moore County's destination marketing organization has arrived! The Convention & Visitors Bureau is pleased to introduce an enhanced tool for consumers, meeting planners, and marketing partners to find information about Pinehurst, Southern Pines, Aberdeen and surrounding towns to plan a golf or leisure visit, a meeting, or to learn about the area's history. A consumer can also quickly and easily find interesting activities to see and do while visiting the Sandhills.
Some of the new features on http://www.homeofgolf.com include:

Enhanced Calendar of Events driven by Everwondr, a dynamic statewide events network calendar program
Improved use and relevancy of social media tools – Facebook, Twitter, Flikr, and TripAdvisor
Easier navigation for consumers when researching the area as a travel destination
Meeting planners will have better access and enhanced planning tools for groups
Expanded partner listings with relevant content, maps and photos with extranet capabilities
More videos and digital photos to highlight area attractions and meeting facilities
Enhanced Search Engine Optimization (SEO) and improved management capabilities at the CVB
More photography and copy that will also be available to media
An integrated booking tool will be added to the site in the near future to facilitate online hotel bookings for visitors
An accompanying mobile website for smart phone users (an estimated 16 million Americans will book travel via mobile devices in 2012)
Updated tools designed to help the CVB measure and optimize results
The new website is built on Drupal, a highly-flexible, open source content management platform that allows the CVB to maintain the site to reflect current events and up-to-the minute content and offers from area lodging and golf packages. The CVB partnered with Integritive Inc. out of Asheville, NC in the design, development, and implementation of the new website.
"More than ever a destination has to deliver its values and offerings effectively via their website. We are extremely proud of what homeofgolf.com now does for our brand – especially how it integrates all the tourism business assets in Moore County to inspire visitors at a level we've not been able achieve up to now," according to Caleb Miles, President & CEO of the Visitors Bureau for Moore County, NC. Miles adds, "The quality and depth of the site content is due in large part to Karin Toomey, our Information Technology manager. She's done a fantastic job from conception to launch for homeofgolf.com."